Cool Stuff: Mondo's Epic 'John Carter' Poster, Available For Free At IMAX Midnight Screenings On Opening Day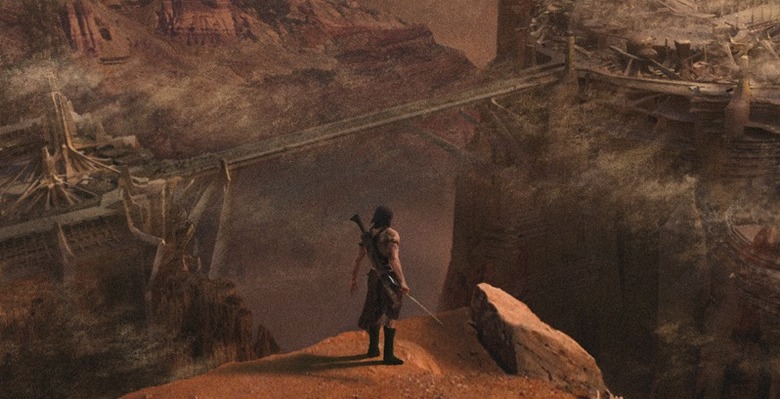 Disney's John Carter has had a rough go of it on the marketing front — a tracking report leaked last week showed "shockingly" low public interest in the film, and you don't need statistics to know that the trailers and teasers so far have been kind of a mess. Such a mess, in fact, that one particularly devoted fan was able to create the movie's best trailer yet using clips that had already been released.
But their latest tactic actually seems like a clever way of attracting the attention of the cool-geek crowd. The studio has teamed up with Mondo for a gorgeous new poster, which will be handed out for free to moviegoers who attend the midnight IMAX screening of Andrew Stanton's sci-fi adventure when it opens on March 9. Check out the full image after the jump.
[via LAT Hero Complex]
Although there's no artist name officially attached, the most obvious guess is that this is the work of JC Richard; a quick glimpse at his Mondo posters for Fortress of Solitude and Jurassic Park makes it clear that the John Carter piece is very similar to his signature style. At any rate, this is one stunning poster. It probably helps that Richard (or, y'know, whoever) had some good-looking material to work with. While I haven't been impressed by most of the acting and dialogue so far, I've enjoyed the trailers' more visual aspects.
Mondo's got plenty of hardcore devotes, and if you're one of them, I'd think that getting a free poster with your IMAX screening would be reason enough to pony up for a ticket to the midnight show. Supplies are limited, though, so keep an eye on the IMAX website to find out if your theater's among the ones participating in the giveaway — and if they are, make sure to get there extra early.
Synopsis:
From Academy Award(R)-winning filmmaker Andrew Stanton comes "John Carter"–a sweeping action-adventure set on the mysterious and exotic planet of Barsoom (Mars). "John Carter" is based on a classic novel by Edgar Rice Burroughs, whose highly imaginative adventures served as inspiration for many filmmakers, both past and present. The film tells the story of war-weary, former military captain John Carter (Taylor Kitsch), who is inexplicably transported to Mars where he becomes reluctantly embroiled in a conflict of epic proportions amongst the inhabitants of the planet, including Tars Tarkas (Willem Dafoe) and the captivating Princess Dejah Thoris (Lynn Collins). In a world on the brink of collapse, Carter rediscovers his humanity when he realizes that the survival of Barsoom and its people rests in his hands.