IMAX Banner And Character Photos From 'The Hunger Games' Unveiled; Advance Tickets Go On Sale Tomorrow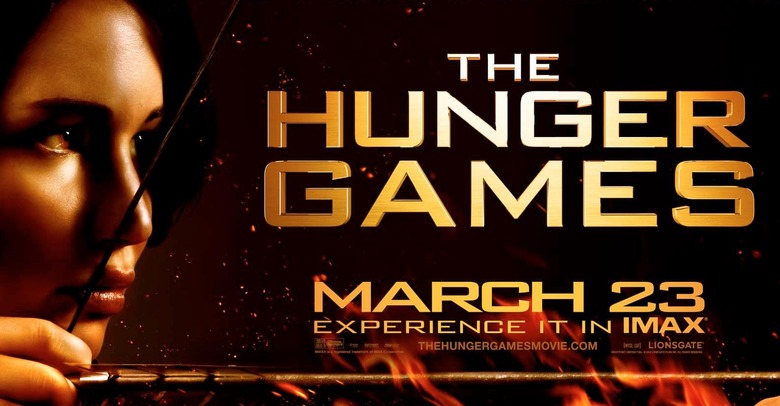 Of course that last The Hunger Games poster wasn't really the final one, no matter what the marketing folks claimed. But I'm not complaining. Two more banners have just dropped, promoting the film's recently announced IMAX run. One is very much in line with the earlier poster, showing Katniss (Jennifer Lawrence) taking aim with her trademark bow and arrow, while the other shows a uniformed Katniss in her training gear. In addition, we have a dozen new character photos of Haymitch (Woody Harrelson), Effie (Elizabeth Banks), Caesar (Stanley Tucci), and more, fresh from the official website. Check 'em out after the jump.
[via First Showing and Lionsgate]
There doesn't really seem to be any new info here (though Effie's looking good!) but if you've come this far, I'm guessing you've got at least some interest in this movie. So now seems like a good time to remind you that tickets go on sale tomorrow, February 22 for the film, which premieres Friday, March 23. The Hunger Games is also slated for a one-week IMAX run starting on the same day as its regular opening.
You probably already have an idea of what the film's about at this point, but just in case you've managed to miss our last seven million or so posts about it, here's the synopsis:
Every year in the ruins of what was once North America, the evil Capitol of the nation of Panem forces each of its twelve districts to send a teenage boy and girl to compete in the Hunger Games. A twisted punishment for a past uprising and an ongoing government intimidation tactic, The Hunger Games are a nationally televised event in which "Tributes" must fight with one another until one survivor remains. Pitted against highly-trained Tributes who have prepared for these Games their entire lives, Katniss is forced to rely upon her sharp instincts as well as the mentorship of drunken former victor Haymitch Abernathy. If she's ever to return home to District 12, Katniss must make impossible choices in the arena that weigh survival against humanity and life against love. THE HUNGER GAMES is directed by Gary Ross, and produced by Nina Jacobson's Color Force in tandem with producer Jon Kilik. Suzanne Collins' best-selling novel, the first in a trilogy published by Scholastic that has over 16 million copies in print in the United States alone, has developed a massive global following.