Casting Bits: Nick Offerman In 'Lamb Of God', Josh Duhamel And Dan Fogler In 'Scenic Route', Kevin Durand And Lukas Haas In 'Dark Was The Night'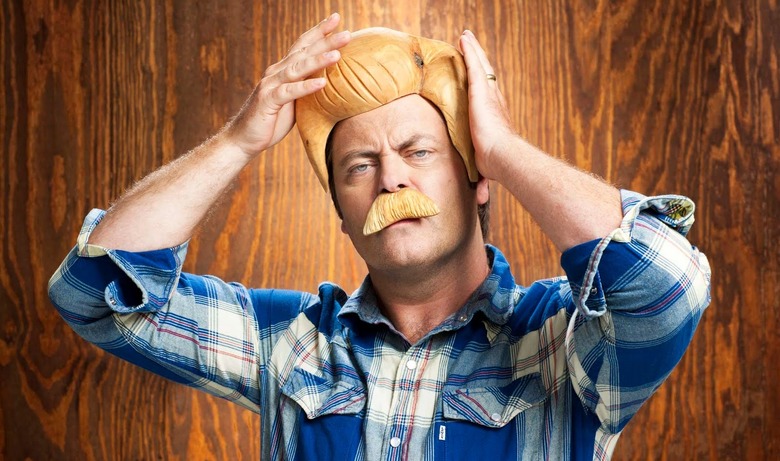 TV watchers probably know Nick Offerman as mustachioed parks department director Ron Swanson on NBC's Parks & Recreation, but we're starting to see more of him on the big screen as well. Swanson's upcoming movie roles include the Sundance hit Smashed and the high profile comedies 21 Jump Street and Casa de mi Padre, as well as two more indies due out later this year. We can now add to the list Lamb of God, Diablo Cody's directorial debut.
Cody's script follows a young woman (Julianne Hough) whose faith is shaken after a horrible plane crash. She ditches her family and church and heads to Las Vegas for a taste of the wild life, encountering all manner of folk (including Russell Brand and Offerman's Smashed co-star Octavia Spencer) along the way. Offerman's role has not been revealed at this time. [Deadline]
After the jump, Josh Duhamel and Dan Fogler buddy up, while a Black List script lands some stars.
Duhamel and Fogler will play a pair of old college pals who go on a road trip, only to get stranded in the middle of the desert. As it dawns on them that they may never get rescued, they begin to fight. The bare-bones premise sounds like it'd need strong leads with good chemistry to really shine, so I can't say Duhamel and Fogler would've been my first picks... but hey, who knows. [Deadline]
Kevin Durand (Real Steel, Lost's Martin Keamy) and Lukas Haas (Inception, Brick) have been cast as the leads in Dark Was the Night, with Sabina Gadecki (Freaky Deaky), Heath Freeman (Skateland), and Nick Damici (Stake Land) rounding out the cast. Jack Hiller is directing from Tyler Hisel's script, which landed on the 2009 Black List under the title The Trees.
The thriller unfolds in a remote town where a logging company has disturbed the balance of life in the woods. When a sinister force emerges from the woods, it's up to the sheriff and his deputy to protect their town. The project promises a mysterious new type of monster that's neither zombie nor vampire. While I'd normally be skeptical, its Black List status makes me curious — it's not often you see a monster movie on there. [Coming Soon]