'The Devil's Carnival' Teaser Trailer: 'Repo! The Genetic Opera' Creators Return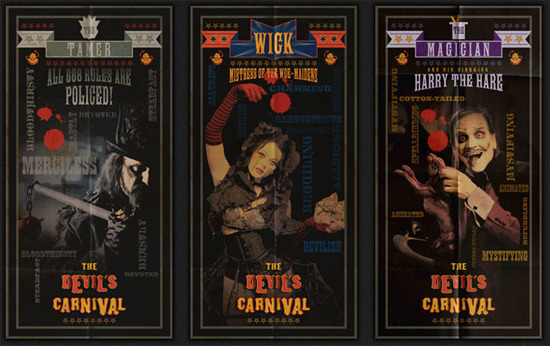 Darren Lynn Bousman, who co-wrote and directed the midnight cult fave Repo! The Genetic Opera, has created a follow-up musical called The Devil's Carnival. The 55-minute film features some returning Repo! players such as Paul Sorvino, Alexa Vega, Bill Moseley, and Ogre of Skinny Puppy. It also has some new faces such as Jessica Lowndes, Sean Patrick Flannery, Briana Evigan, Ivan Moody, Marc Senter and Shawn 'Clown' Crahan from Slipknot.
The teaser for The Devil's Carnival announces more of the involved talent, and you can check it out below.
Boseman told THR the film is "more accessible than Repo but also a lot darker than Repo," and promised a roadshow release that will hit 30 cities starting in April, with a companion 13-song album. The tour will also "[turn] venues into environments that tie to the movie and that will encourage audience participation."
Repo! co-writer Terrence Zdunich wrote the music for The Devil's Carnival with Saar Hendelman.
This one doesn't look to be to my taste, but I expect the people who turned into big Repo! fans will want to check it out, and might find something to love here.  More info will be found on TheDevilsCarnival.com.