'Struck By Lightning' Trailer - 'Glee' Star Chris Colfer Makes His Screenwriting Debut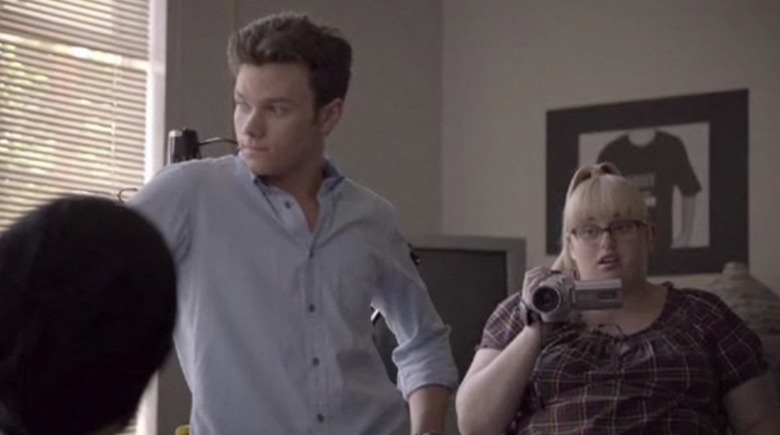 Rachel Berry may be the Glee character known for her outsized dreams of superstardom, but it's Kurt Hummel who's taking Hollywood by storm at the moment. Or Chris Colfer, the actor who plays him, is, at any rate. Not content with simply earning a Golden Globe, two Emmy nominations, and a spot on the Time 100 for his role on the hit Fox series, Colfer has spent his time away from McKinley High penning feature screenplays, selling a Disney pilot, and landing a book deal — all by the age of 21.
The first of those scripts, Struck By Lightning, shot this past summer with Brian Dannelly (Saved!) at the helm, and we have an early trailer now. Colfer stars as an ambitious high school senior who blackmails his peers into contributing to his literary magazine before he is, you guessed it, struck by lightning and killed. The dark comedy also boasts some other notable stars, including Christina Hendricks, Allison Janney, Sarah Hyland, Angela Kinsey, Dermot Mulroney, and Rebel Wilson. Watch the trailer after the jump.
[via Vulture]
Based on just this trailer, there doesn't seem to be much about Struck By Lightning that sets it apart from every other indie coming-of-age tale out there. Still, it's a decent start for a first-time screenwriter, especially one so young. It helps that there's some good talent involved. Dannelly's Saved! was an enjoyable high school tale with bite, and though the cast isn't comprised of huge movie stars, several of them have done strong work elsewhere. I'm also happy to see that Colfer actually can do something besides Kurt Hummel, which should bode well for his future in front of the camera as well as behind it.
No release date has been announced at this time for Struck By Lightning, though it seems likely to hit at some point this year.