'Sound Of Noise' US Trailer: An Anarchic Musical Crime Spree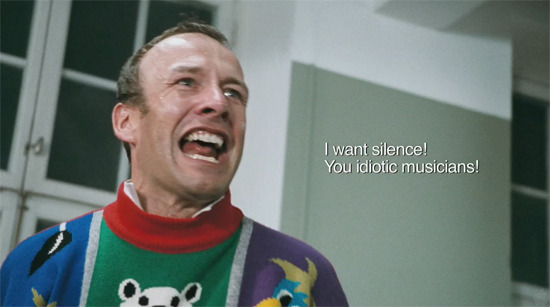 The trailer for the very unusual-looking Swedish musical heist film Sound of Noise plays a bit like an ad for a heist movie scored by Kraftwerk, or maybe Battles. We see an anarchic group of artist/musicians turned criminals who somehow manage to 'take a city hostage' in a crime spree characterized by delusions of musical grandeur.
Does any of that make sense? Probably not, at least without seeing this trailer. So check out the Sound of Noise trailer below, and you'll get some idea of what I'm on about, and perhaps also start to see why the movie so captivated viewers at last year's Fantastic Fest, where it won Best Picture.
I'll admit I'm a sucker for strange/quirky/funny musical numbers, like the sequences in Dancer in the Dark or Zatoichi. Make a trailer with some rhythmic component and I'm a really easy sell. (Delicatessen really nailed it, for instance.) And, Best Picture nod aside, I have no idea if Sound of Noise is actually satisfying on a narrative level. But it sure does look fun.
Apple has the HD trailer. Sound of Noise opens on March 9.
Police officer Amadeus Warnebring was born into a musical family with a long history of famous musicians. Ironically, he hates music. His life is thrown into chaos when a band of crazy musicians decides to perform a musical apocalypse using the city as their orchestra... Reluctantly, Warnebring embarks on his first musical investigation...