'Dorothy And The Witches Of Oz' Trailer - Another New 'Wizard Of Oz'-Inspired Movie You Didn't Even Know Existed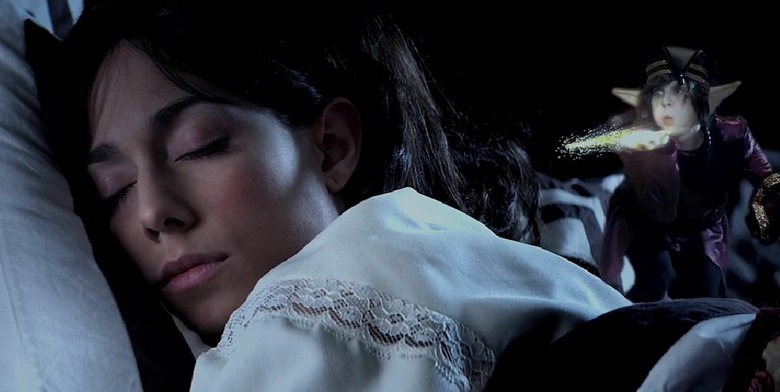 I think it's fair to say that we at /Film have been pretty thorough in our coverage of Sam Raimi's Wizard of Oz prequel Oz: The Great and Powerful, reporting on every last Bruce Campbell cameo and black-and-white prologue. But in our excitement over that film, we've apparently overlooked another, unrelated project that also takes inspiration from L. Frank Baum's much-loved fantasy world.
Titled Dorothy and the Witches of Oz, Leigh Scott's low-budget sorta-sequel stars Paulie Rojas as successful NYC-based children's author Dorothy Gale, who learns that her Oz adventures weren't imagined, but real. Christopher Lloyd, Sean Astin, Ethan Embry, and Billy Boyd also star. Watch the trailer after the jump.
Head to Apple to watch the trailer in HD.
There's a goofy charm to the trailer despite (or because of) its low-rent feel, and the premise isn't a bad one. But this trailer's a total mess — if it weren't for the synopsis (below) I would have no idea at all what it was about. On the plus side, Doc Brown strikes me as an excellent choice to play the Wizard, and I couldn't help but smirk at the "in glorious 2D" line. On the neutral side, seeing as I don't live in Arizona, Kansas, or Kentucky, it seems unlikely I'll get a chance to see it anytime soon anyway.
Children's author Dorothy Gale makes a decent living continuing her grandfather's series of Oz books. When a new agent enters the scene, Dorothy moves to New York city. In the midst of a major business deal for her books, Dorothy discovers that her books are not based on her imagination, but on repressed memories. While Dorothy struggles with the revelation, she is forced to confront The Wicked Witch of the West, who has descended upon the Big Apple, determined to settle an old score.