'Hugo' And 'Rango' Kick Off Mondo's Academy Award Series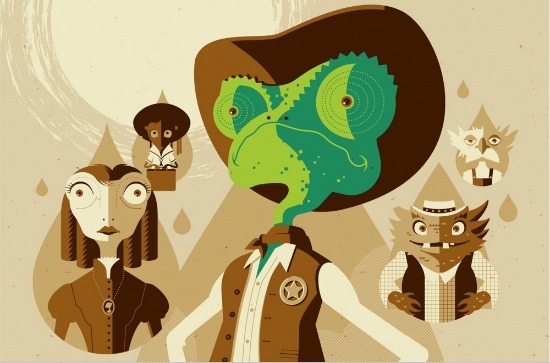 If you're like me and a little underwhelmed by this year's Oscar nominees, maybe seeing them through Mondo's eyes will make it more exciting. The poster boutique of the Alamo Drafthouse is making posters for four of their favorite films, in four of their favorite categories, timed to the 84th Annual Academy Awards on February 26.
The first two films are Martin Scorsese's Hugo, representing the Best Picture category, designed by Kevin Tong and Gore Verbinski's Rango, representing the Best Animated Film category, designed by Tom Whalen. Check them out after the jump.
Here are Kevin Tong's two Hugo posters as well as Tom Whalen's Rango.
Kevin Tong's Hugo is a 24 x 36 inch screenprint in a regular blue edition of 295 for $45 and red variant edition of 100 for $70.
Tom Whalen's Rango is an 18 x 24 inch screenprint in an edition of 270. It'll cost $40.
Both these posters will go on sale during the Oscars on February 26 and announced by following @MondoNews.
The next and final two posters in the series will be annoucned next week.
Which categories would you like to see covered and which films do you think Mondo will pick?