The Muppets Won't Host Or Sing, But They Will Present At The Oscars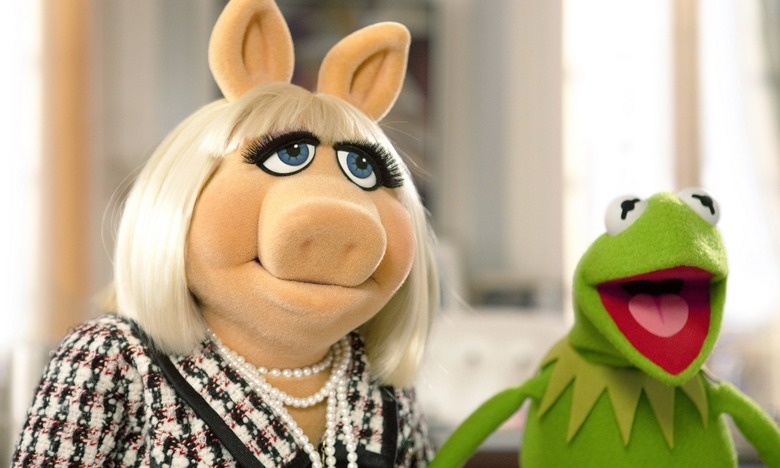 Although the Muppets have recently seen a resurgence in popularity — not unlike the one they enjoyed in the plotline of last year's The Muppets, which contributed to that popularity — they've had some trouble getting into Hollywood's biggest night of the year. First, the powers that be decided to go with Billy Crystal rather than the Muppets to replace Eddie Murphy as host, despite impassioned pleas from fans. Then, news broke that in a departure from tradition, this year's Best Song nominees (of which "Man or Muppet" is one) would not be performed live during the telecast.
But fans can cheer up, because it seems the Academy's finally found a place for the beloved puppets in this year's ceremony after all. Kermit and Miss Piggy are now set to present at the Academy Awards, joining the all-star ranks of Tom Cruise, Angelina Jolie, Tom Hanks, Halle Berry, Ben Stiller, Tina Fey, Bradley Cooper, Emma Stone, and more. Read more after the jump.
Though it was one of the best-reviewed films of the year, with a 96% Fresh rating at Rotten Tomatoes, last year's The Muppets film earned only one Oscar nomination, for the Bret McKenzie-composed number "Man or Muppet." The news that the Academy was cutting the musical numbers this year spurred a flurry of unhappy tweets from Muppets devotees, including one from comedy heavyweight Judd Apatow. Celebrity gossip blogger Perez Hilton expressed his displeasure as well, in the form of an online petition that had over 63,000 signatures as of Friday afternoon.
Seeing Kermit and Miss Piggy present may not be exactly what "Man or Muppet" lovers hoped for, but I've no doubt the gang will find a way to let their uniquely fuzzy charm shine through in their appearance anyway. The Oscars will broadcast live Sunday, February 26 on ABC.