MGM Fast-Tracks Musical 'Valley Girl' Remake With Clay Weiner Directing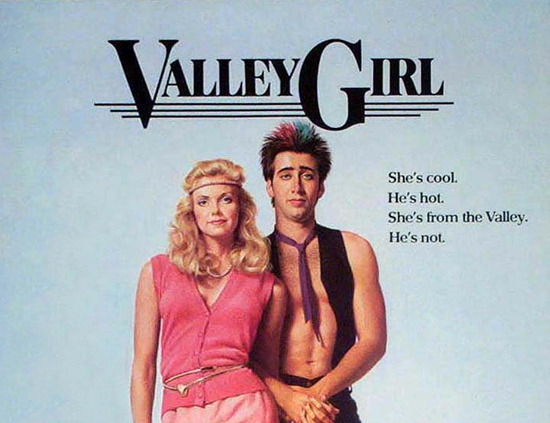 It was all the way back in 2008, when MGM hadn't yet tripped up on billions of dollars of debt, that the company announced it wanted to remake Valley Girl as an '80s-themed musical. The original movie featured Nicolas Cage as a punk from Hollywood who falls for Valley Girl Deborah Foreman. It's a fluffy 'wrong side of the tracks' romance, but with a zany and energetic early performance from Cage.
MGM's bankruptcy and restructuring hasn't dimmed the company's enthusiasm for remaking Valley Girl. In fact, MGM seems to like the idea of remakes more than ever, and so it is going right ahead with the new Valley Girl.
MGM has now partnered up with Paramount to finance the film, which will be directed by Clay Weiner. Who's that? He's a commercial director who also made the new classic (that's a joke) movie Fred: The Movie.
Deadline gets to break this news to the world, and explains,
This version of Valley Girl follow the original story of a punk guy with no money from the wrong side of the tracks who sets his sights on winning the affection of a Valley girl with a loutishly preppy boyfriend. In the musical, the actors will sing '80s New Wave tunes from bands like The Go Go's and The Cars.
Amy Talkington scripted and Jenny Lumet (Rachel Getting Married) is doing a rewrite. Deadline says Weiner got the directing job based in large part on a three-minute demo reel he assembled before the new year that featured choreographed dances that reflect what he wants to do with the film, and "demonstrated the spirit, design, costuming and camera work that reflected his vision for the film."
Now can we expect to hear that, in an ironic turnaround, Nic Cage will cameo as the father of the film's valley girl?