Peter Berg Says New 'Friday Night Lights' Film Script Almost Done; Scheduling Remains Biggest Hurdle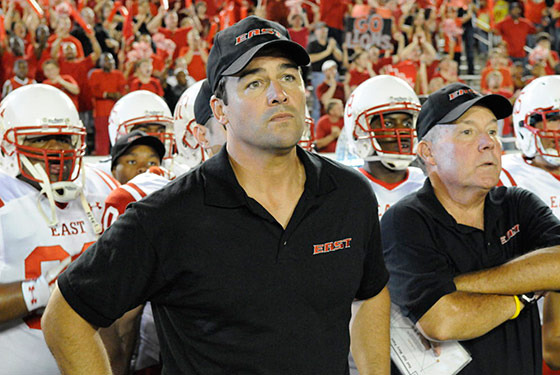 This may or may not be good news, depending on whether or not you think the Friday Night Lights television series finale was the best possible end to the show's story. Just as the finale was about to air, we heard that the show could find new life on the big screen, and a short time later producer Peter Berg confirmed the development of a film featuring the series' characters.
During a recent event for Battleship, the film he directed for a summer release this year, Berg gave a fairly substantial status update on the FNL film project. The script is coming together, he says, and one plotline will be based in part on former Texas Tech football coach Mike Leach.
Berg told MTV,
Jason Katims, who was our super talented show-runner, is about done with the script. You never know. So much of these things become scheduling. Kyle [Chandler] is busy, Adrianne [Palicki] is busy, Taylor is busy, Connie Britton is busy, but if we can get everyone in the same room at the same time, we all want to do it. We're not done with 'Friday Night Lights.'
With respect to the film's story, Berg explained,
[Katims] has come up with a really great storyline that parallels what happened to Mike Leach, one of my heroes, a coach at Texas Tech who was unjustly fired and unjustly accused of mistreating a player with a concussion, which was proven to not have been the case... It would be critical that we get Kyle and Connie [onboard for the film] — we anchored the show around them — and then bring in Riggins, Tyra, Lyla and all other characters as we could get them. But the idea is to really revolve it around the coach.
Taylor Kitsch, who played Riggins, spoke a bit at the event as well, but said "I loved the way I left Riggs," and suggested he might be featured in little more than a cameo in the film.