San Francisco's Historic New Mission Theater Might Become An Alamo Drafthouse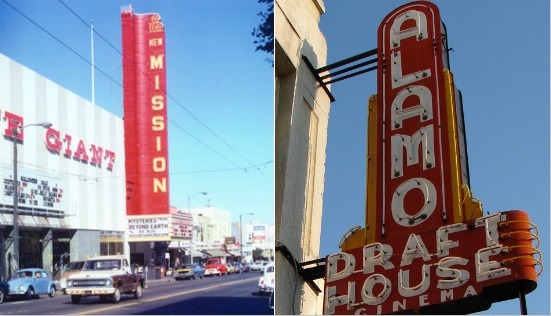 Los Angeles might be the movie capital of the world, but another city in the same state could be the first in California to open an Alamo Drafthouse. SFist.com is reporting there's a proposal on the table to turn San Francisco's historic New Mission Theater into a five-screen Drafthouse. However, because the theater – which has been closed since 1993 – is a historical landmark, a Historic Preservation Committee must first approve a proposal the property's owner and Alamo executives have devised. That will go down on Wednesday. Read more after the jump.
SFist.com found the information on the agenda for the February 15 Historic Preservation Committee meeting. Theater owner Gus Murad hopes to turn the single screen theater, which was built in 1916, into five screens – one on the ground floor and four smaller ones out of the balconies. A bar, kitchen and more would all be put in place as well, as per the usual Drafthouse experience.
Alamo Drafthouse officials did not have an official comment. That'll likely change after a decision is made.
It all comes down to the wishes of the Preservation Committee and, unfortunately, the article doesn't give an indication one way or another how strict they are. Alamo is a pretty progressive company and while their theater would certainly be successful in San Francisco and a boost to the local economy, it's always possible it's not what the Committee has in mind. In the past, Murad's had some difficulty turning the property next door to the theater into condos, but that was eventually worked out.
As a Los Angeles resident, I'll be very jealous if a Drafthouse opens in San Francisco before here but either way it's great step for the company who is already expanding into Colorado and more.
For more information on the New Mission, head to one of several sites about its history, such as this one. And check back for an update on Wednesday.