Sequel Bits: Cobra Commander In 'G.I. Joe: Retaliation;' Plus 'Rambo 5,' 'Beetlejuice 2,' 'This Is 40'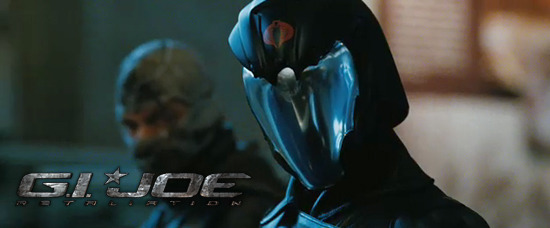 Let's kick off another sequel news roundup with some info on a film that will be out soon. Jon M. Chu directed G.I. Joe: Retaliation, and the trailers released so far have generated a good level of interest in the film.
In an interview with Moviefone, Chu talks about enthusiasm for various Joe characters and the difficulty his team had with creating a linear follow-up to the first Joe film, The Rise of Cobra. One question many of our readers has asked regards Cobra Commander, and how this film's character connects to the Joseph Gordon-Levitt version in the previous movie. Chu says, "Cobra Commander was an issue. But I know we couldn't lose Cobra Commander."
Asked if this is the same character under the mask, the director says,
No. [Smiling] But we figured out a way that's pretty nice. And you get the Cobra Commander that you've always wanted. Or, to me, what I always wanted: a bad-ass villain. He's one of the most iconic villains ever. I'm even following him on Twitter — he's so funny.
After the break, a brief update on the chance of a Rambo 5, Michael Keaton is reportedly excited about a Beetlejuice sequel, and we've got some info on Judd Apatow's sorta-sequel to Knocked Up, This Is 40.
There has been a lot of back and forth speculation on the option of a fifth Rambo movie, and Sylvester Stallone hasn't always helped clear things up, as he has offered slightly contradictory statements about the sequel in the past few years. But there is a brief bit of hope for those who want to see Sly throw on the bandanna one more time. Screenwriter Sean Hood said on Twitter,
Rambo 5 on hold as Sly finishes Expendables 2. He hasn't decided if R5 will be an Unforgiven or a "passing of the torch."
Both of those options could probably be pulled into one, and the 'Unforgiven' version is one we've heard referenced as a possibility in the past. Before that happens, however, Stallone has to deal with the release of The Expendables 2 and the shoot for The Tomb, in which he'll be joined once again by Arnold Schwarzenegger. [via Collider]
Seth Grahame-Smith, who got his foot in the door with the novel Pride and Prejudice and Zombies, has become a close associate of Tim Burton. He wrote Dark Shadows and adapted his own novel Abraham Lincoln: Vampire Hunter for the Burton-produced film. And now he's working with Burton and Warner Bros. on a follow-up to Beetlejuice that he says is a priority for Burton and the studio.
Grahame-Smith says the Beetlejuice movie is third on his current schedule, but that Michael Keaton expressed excitement and interest in the project. Grahame-Smith told STYD,
[Keaton has] been wanting to do it for 20 years and he'll talk to anybody about it who will listen.  I really told him, I have a huge reverence for Tim and a huge reverence for that film in general.  I don't think we should do it if we shit on the legacy.  He agrees.  So, right now, it remains to be seen, I have a couple of story ideas, but we're very early out.
Finally, here's a tidbit about This Is 40, the film that Judd Apatow wrote and directed featuring returning characters from Knocked Up and Apatow stable actors (Paul Rudd, Leslie Mann, Charlyne Yi, Jason Segel, Melissa McCarthy, Chris O'Dowd), as well as new additions such as Megan Fox, Albert Brooks, Lena Dunham, Robert Smigel, and John Lithgow.
FilmMusicReporter, via The Playlist, reports that Jon Brion will score the film. The capable musician and super-producer scored the Apatow-produced Step Brothers, and is probably most notable for his string of work with Paul Thomas Anderson, culminating with his wild Punch Drunk Love score.
We'll have to wait for the end of the year to see what Brion turns in — This Is 40 opens on December 21 — but is is a great bit of news that makes the film a bit more interesting. (To me, at least.)