/Film Exclusive Photos: 'Aftershock,' An Earthquake Thriller Presented By Eli Roth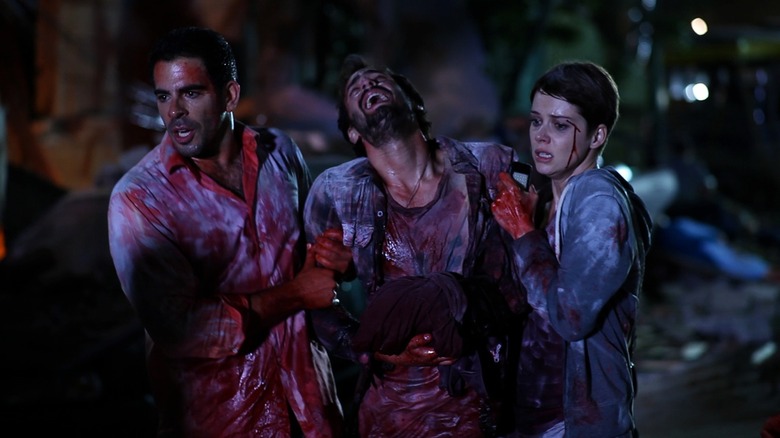 Eli Roth is making the earth move. The man behind the Hostel series, co-star of Inglourious Basterds and producer of The Last Exorcism has teamed up with successful Chilean filmmaker Nicolás López to make Aftershock, an English-language action-thriller inspired by the Chilean earthquake. It follows a group of six friends (including Roth, several international movie stars and a cameo by pop superstar Selena Gomez) struggling to survive after a massive earthquake hits their city and society crumbles around them. Most of the film will include realistic, practical effects.Aftershock is still shooting in Chile but Lopez and Roth are ready to debut the first official images from the film exclusively here on /Film.
After the jump, check out these images, learn about the cast, filmmakers and more.
Here is your first official look at images from Aftershock, presented by Eli Roth and directed by Nicolás López.
According to Screendaily, Aftershock has already been picked up for distribution in 17 countries though North America has yet to be figured out. That'll likely happen once the movie is actually done, which should be later in 2012. However, López suggested they're expecting the kind of release Roth's last producing effort, The Last Exorcist, got. The pair also hope to keep making internationally viable movies like this, in Chile.
Aftershock was co-written by López, Roth and Guillermo Amoedo. It stars Roth, Gomez as well as Ariel Levy, Nicolás Martínez, Lorenza Izzo, Andrea Osvart and Natasha Yarovenko, most of which are major stars in various parts of the world.
Lopez himself is already responsible for two of Chile's highest grossing movies of the last few years (F*** My Life and F*** My Wedding, watch the trailers there) as well as a movie Quentin Tarantino called "the funniest movie of the year" in 2004, Promedio Rojo, and 2008 Fantastic Fest winner Santos. The trailers are linked but the latter two are also available in full on Netflix Instant.
Take those images, the cast, crew and story and Aftershock has all the ingredients to be a bad-ass, entertaining disaster flick. Would you agree?
For more on the film, follow the director on Twitter @NicolasLopez, who will soon start tweeting info on the movie in English.