New 'Dark Shadows' Image Features Eva Green; Screenwriter Promises A Heightened, Grand, Absurdist Story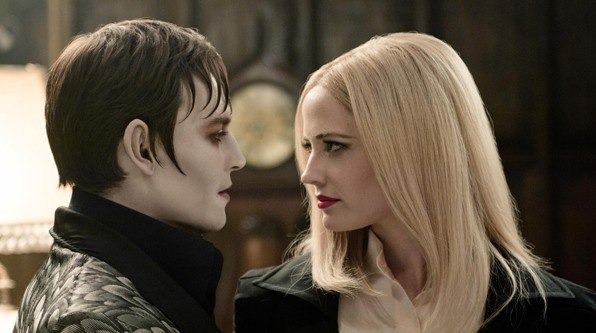 Here's a new image from the other Tim Burton movie that will be out in the first half of 2012. While we just saw a trailer for his producing effort Abraham Lincoln: Vampire Hunter, this is for the movie he directed after many years of talking about the project: Dark Shadows.
This look at star Johnny Depp will already be familiar to those who have been following along with the development of the film. He plays the centuries-old vampire Barnabas Collins, originally introduced in the '60s TV soap Dark Shadows. We haven't seen much of Eva Green, however, other than in the first pre-shoot promo shot that introduced the cast. She plays the witch Angelique Bouchard, a character that has a very specific history with Barnabas Collins.
We can't give you a much larger look at the pic, but after the break the screenwriter of Dark Shadows offers some clues as to just what sort of film we're in for.
The big question about Dark Shadows is just what sort of film it will be, given that even Tim Burton has said nailing down the film's tone was a tricky feat. At an event for Abraham Lincoln: Vampire Hunter, Badass Digest talked to screenwriter Seth Grahame-Smith, who wrote both Burton films. The writer said,
The tone of the movie is soap operatic. It's heightened. Everything is heightened and grand. Johnny is just dug in and big. [Starts hamming it up] 'Didn't you see? How... could you? My god, woman!' There's an absurdist element to it. It's very funny. I don't think people are expecting it to be as funny as it is.
That absurdist tone sounds generally like what I would expect out of any adaptation of the show — the whole endeavor was always so strange that porting it to the big screen invites an oddly grandiose approach.
Grahame-Smith also says that there is some weird stuff that stays true to the vampiric nature of Depp's character,
It's PG-13, so there's not gore, there are no hardcore scares, but there's some crazy Barnabas vampire shit in this movie that will surprise people in terms of its ferocity.
Dark Shadows also features Helena Bonham Carter as Dr. Julia Hoffman; Chloe Grace Moretz as Carolyn Stoddard; Gulliver McGrath as David Collins; Bella Heathcote as Vitoria Winters; Ray Shirley as Mrs. Johnson; Jackie Earle Haley as Willie Loomis; Jonny Lee Miller as Roger Collins; and Michelle Pfeiffer as Elizabeth Collins Stoddard. It opens on May 11. [IMage via Luces Carmara Blog]