Columbia Drops Garth Ennis Comic Adaptation 'The Boys;' YA Adaptation 'Mortal Instuments' Also Cut Loose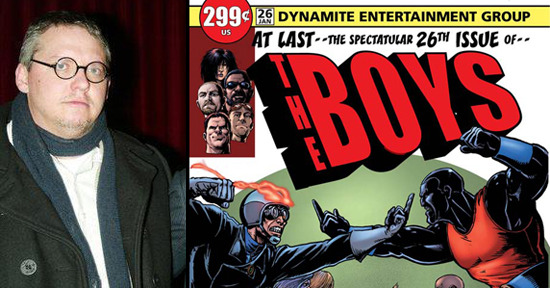 The Boys are in the orphanage. Columbia has been developing an adaptation of the Garth Ennis and Darick Robertson comic series for the past few years, but things have changed. The project has been put into turnaround, so another studio has a chance to step in and pick it up. This doesn't have to be a death knell for the film — in fact, going into turnaround can sometimes be the best way for a project to get new life, as a company that is  a lot more invested in the material might step up to move it forward.
The book is about a CIA squad that watches over and, at times, reigns in and even eliminates superheroes.
Adam McKay (Anchorman) has been interested in directing the film, and actively campaigned for the gig around the time of the release of his action comedy The Other Guys. He was revealed to be in talks to direct the project, but that was way back in summer 2010, and we've heard almost nothing about the film since. Clearly there were issues that couldn't be worked out, likely on a budgetary level. Read the synopsis below and think about how much it might cost:
This is going to hurt! In a world where costumed heroes soar through the sky and masked vigilantes prowl the night, someone's got to make sure the "supes" don't get out of line. And someone will! Billy Butcher, Wee Hughie, Mother's Milk, The Frenchman, and The Female are The Boys: A CIA-backed team of very dangerous people, each one dedicated to the struggle against the most dangerous force on Earth – superpower! Some superheroes have to be watched. Some have to be controlled. And some of them, sometimes, need to be taken out of the picture. That's when you call in The Boys!
The Boys isn't the only project that has been left out in the cold over the weekend. Screen Gems also shrugged off Mortal Instruments, the adaptation of the first novel in Cassandra Clare's young adult fantasy series. Scott Stewart (Legion) had been attached to direct with Lily Collins and Jamie Campbell Bower as possible stars.
Stewart has moved on to the TV incarnation of Legion, and Constantin Film may develop Mortal Instruments on its own. [THR]