'Beyond The Black Rainbow' Trailer: What Psychedelic Retro-Futuristic Madness Is This?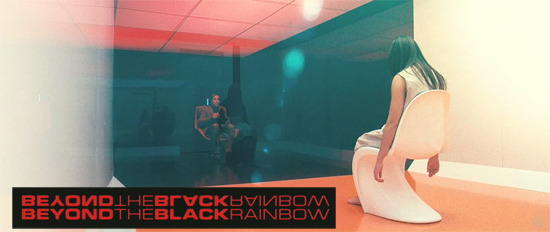 There is an image in this trailer for Beyond the Black Rainbow in which a silhouetted woman seems to crawl out of the pupil in a screen-filling close-up of a human eye. It's beautiful and weird, and that's the trailer in a nutshell. Watching this, I have no idea what this film is about. I do know that it is the writing and directing debut of Panos Cosmatos, and that it played a few festivals in the past couple years, premiering in the US last year at the Tribeca Film Festival.
Watching the trailer again I also know that Cosmatos is a big fan of Stanley Kubrick and early David Cronenberg, as well as probably any esoteric bits of psychedelic science fiction from the late '60s through the early '80s. (There's even a vibe of Matt Howarth comics, although Howarth seems to be so close to forgotten that I don't expect that means much to many people now.) I can tell that the film is probably very, very slow and destined to drive some audiences crazy, but that just makes me want to see it a bit more.
(I can't be the only one who saw the title of this film and first thought it had something to do with the alt-psych band Black Moth Super Rainbow, can I?)
Magnet will release Beyond the Black Rainbow this spring; it will likely hit VOD and digital distribution services first and then play a very limited theatrical run a few weeks later. Apple has the HD trailer; we also featured an earlier version of the trailer here a while back.
Beyond the Black Rainbow, written and directed by Panos Cosmatos, is a Reagan-era fever dream inspired by hazy childhood memories of midnight movies and Saturday morning cartoons. Cosmatos brings a bold, Kubrickian vision to the screen in stunning detail in this sci-fi fable of a young woman imprisoned in an experimental laboratory and the enigmatic scientist who is her captor. Set in a futuristic 1983, Elena finds herself held against her will in a mysterious facility under the watchful eye of the sinister Dr. Barry Nyle. Pushed to her limits, Elena is left with no choice but to navigate an escape from her labyrinthine prison, in the process revealing its hidden secrets.