Gallery: 'Batman' Directed By Martin Scorsese, Ridley Scott, Ang Lee, Guillermo Del Toro, Brad Bird And More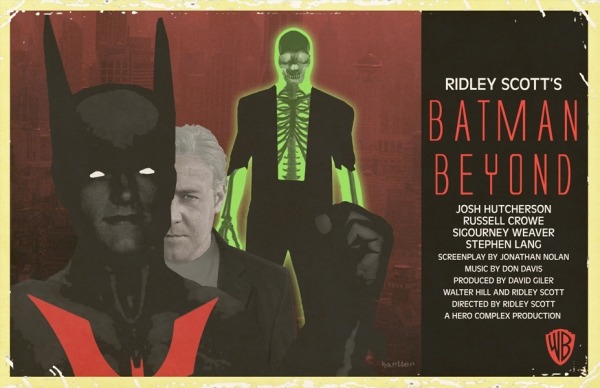 We all know that after The Dark Knight Rises on July 20, Christopher Nolan and Christian Bale will officially hang up the cowl. We also know Warner Bros. is going to continue making Batman movies without them. So what happens after Nolan's trilogy ends? Who will be chosen to continue the legacy?
The Los Angeles Times Hero Complex had some fun with that idea, commissioning graphic artist Sean Hartter to design 15 different visions of a new Batman by some of the finest filmmakers in the world.
After the jump, check out posters for all kinds of different Batman films directed by Matthew Vaughn, Todd Phillips, Wes Anderson, Rob Marshall, Brad Bird, Guillermo del Toro, Ang Lee, Catherine Hardwicke, Guy Ritchie, Martin Scorsese, Hayao Miyazaki, Neill Blomkamp, Tim Burton, Zack Snyder and Ridley Scott.
Thanks to the Hero Complex for all of these images. Below, we'll provide links to write ups explaining the thinking behind each one.
Some of the best things about these posters are the casting in each. Make sure you click and see which actors got chosen for what roles.
And to explain, here are the links to each set of images:
Matthew Vaughn's "Batman: Mad City"; Todd Phillips'"Dude, Where's My Batmobile?"; Wes Anderson's "Alfred Pennyworth: The Life Nocturnal"Rob Marshall's "Gotham!"; Brad Bird's "Mr. Freeze's Icy Revenge"; Guillermo del Toro's "Batman"Ang Lee's "Wayne Manor"; Catherine Hardwicke's "Batman: Moonlight"; Guy Ritchie's "Gotham by Gaslight"Martin Scorsese's "Batman: Caped Fear"; Hayao Miyazaki's "Batmite"; Neill Blomkamp's "Batman: Arkham City"Tim Burton's "The Dark Knight Returns"; Zack Snyder's "World's Finest"; Ridley Scott's "Batman Beyond"
I think they odds are small that any of these filmmakers will actually be the one to redo Batman in the coming years. Each probably just has way too much going on and too much to lose. But, if I was able to choose one to see, my top three would be Burton's Dark Knight Returns, Scott's Batman Beyond and Ritchie's Gotham by Gaslight. From those, I honestly just think the Batman Beyond movie would be the most interesting to see.
What do you think?