'Brotherhood Of The Wolf' Director To Make 'Beauty And The Beast' Starring Vincent Cassel And Lea Seydoux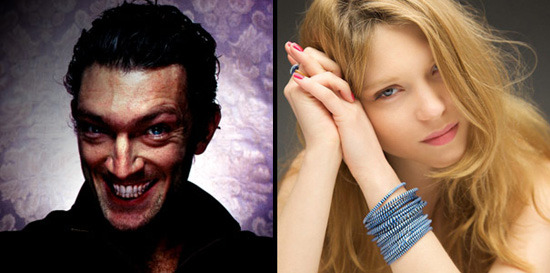 Just over ten years ago, French director Christophe Gans got a lot of attention for helping raise global awareness of Monica Bellucci when he cast her in his movie The Brotherhood of the Wolf, inspired by centuries-old stories of beasts raiding the French countryside. He has only made one film since: Silent Hill, which received a much more chilly reception than did Brotherhood.
Now Gans is one of several people trying to revive the classic story of Beauty and the Beast. We've just seen the 3D re-release of Disney's version, and there was the horrible tween take called Beastly released last year. Two new TV version are in the works, at ABC and the CW. Now Gans has written and will direct his own, starring Vincent Cassel (The Brotherhood of the Wolf) and Lea Seydoux (Mission: Impossible – Ghost Protocol).
Variety says the French-language film is based on "one of the earliest published variants of the traditional fairy tale." Clarification shouldn't be necessary, but Cassel will be the beast and Seydoux the beauty in Gans' version.
The film will shoot in October, and distribution for many markets is being sold at the European Film Market going on now at the Berlin Film Festival. No US distribution is set at this point, but that could change very quickly.
Gans said of his plans,
With this picture, I want to unleash my imagination. Although I will keep to a form of storytelling of this timeless fairy tale that is in keeping with the same pace and characters as the original, I will surprise the audience by creating a completely new visual universe never experienced before and produce images of an unparalleled quality. Every single one of my movies has presented me with a challenge but this one is, by far, the most exciting and rewarding.
Well, alright, then. Sounds like he's ready to directly challenge the famed, gorgeous and strange 1946 film version directed by Jean Cocteau, or at least take real inspiration from it.