Morgan Freeman Will Lead A Resistance Force In Joseph Kosinski's 'Oblivion,' Starring Tom Cruise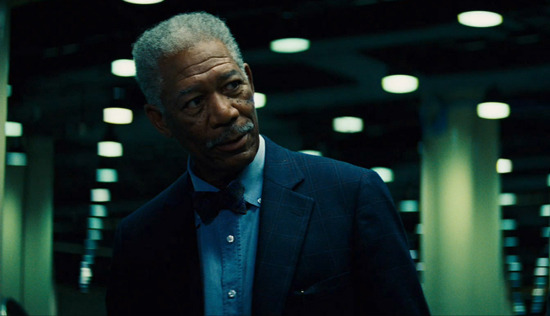 Joseph Kosinski is set to follow Tron Legacy with an original sci-fi idea that he hatched as a proof of concept graphic novel a couple years ago. The film is Oblivion (which has also been called Horizons, and said to be untitled as well) and was originally housed at Disney before the studio cut it loose. But the film ended up at Universal with Tom Cruise in the lead role, and now Morgan Freeman has joined the cast in an important role.
Cruise is Jak, a surface drone repairman on a post-apocalyptic and highly irradiated Earth. Most of humanity lives off-world, thanks to the virulent aliens that stalk the wreckage on the surface. When Jak discovers a mysterious woman (Andrea Riseborough) in a crash-landed pod, it sets off an unstoppable chain of events that will force him to question everything he knows.
Olga Kurylenko is in the cast as Jak's wife, and Deadline reports the addition of Freeman. Variety's Jeff Sneider chimed in on Twitter to say that Freeman is playing "Malcolm Beech, the leader of the human resistance on Earth."
And one last interesting point: Toy Story 3 and Little Miss Sunshine writer Michael Ardnt is the latest guy to pen a rewrite on the script. William Monahan wrote the first draft, Karl Gadjusek rewrote that and now Deadline says Arndt is on to polish up things before the film shoots. We don't know precisely when production begins, and the film actually doesn't have a release date set at this point, which is unusual for a major studio tentpole.