First Look: Martin McDonagh's 'In Bruges' Follow-Up 'Seven Psychopaths'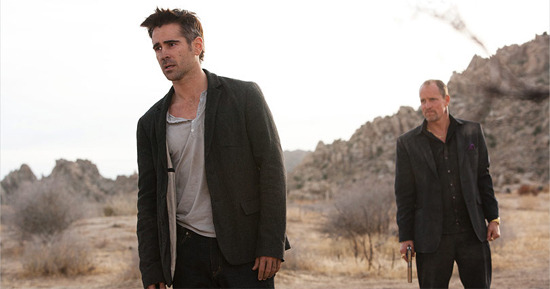 Seven Psychopaths, directed by In Bruges writer/director and playwright Martin McDonagh, is one of my most-anticipated movies of 2012. (A list which, as predicated, is already completely in need of an update or revamp after Sundance.) The reason is simple: McDonagh has a unique and compelling voice, and the film features a killer cast: Colin Farrell, Woody Harrelson, Christopher Walken, Sam Rockwell, Tom Waits, Gabourey Sidibe, Abbie Cornish, and Olga Kurylenko.
We haven't yet seen any footage from the movie, but here are the first images. And for those who haven't tracked down the screenplay we've got some new details as well, which might do a little bit to enhance interest in the movie.
EW has the images and interviews with the cast. First, a gallery:
The film sees Harrelson as a gangster who loses it a little bit when his dog is stolen by a broke actor (Rockwell), who is working with a professional dognapper (Walken) who has dogs stolen, then returns them for a reward. But the weird bit is that Farrell plays a screenwriter named Martin who is working on a script called Seven Psychopaths, and when he gets caught up in Rockwell's orbit, he finds material for his script in the whackos that he meets.
Sidibe is a dog-walker who runs afoul of Harrelson; Kurylenko is Harrelson's girlfriend, and Abbie Cornish is Farrell's better half. Tom Waits, meanwhile, is "Zachariah, a rabbit-petting weirdo who offers up strange stories from his past for the Seven Psychopaths screenplay." In other words, he's basically Tom Waits.
The self-referential aspect of the script is interesting, and McDonagh tells EW that this is a more overtly comedic story than some of his other work.
Farrell praises his director:
It's easy to lose sight of the fact that there are very real and very deep feelings at play in all of his work. They're just masked by this hugely exorbitant language and very extreme, and at times potentially violent situations. Beneath all that stuff, the truth that lies beneath his writing is compassion — more than he would stake a claim for.
There is no release date for the film at this point, but I'm hoping it makes a successful festival appearance that pushes CBS Films to set a solid fall release date.