'Just Like Being There' Trailer - Gig Poster Documentary Premieres At SXSW 2012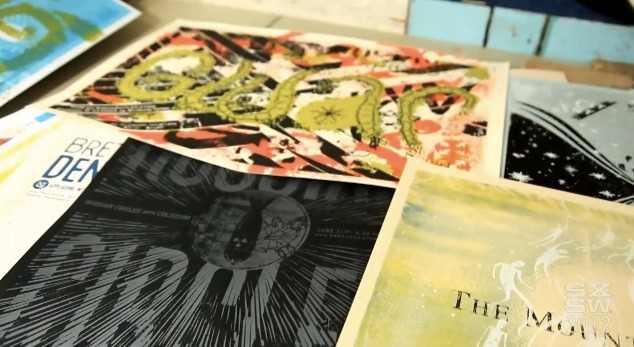 Maybe you've noticed over the past few years, but we here at /Film are fans of limited edition, pop culture art. This is evidenced by the copious amounts of posts we write on the subject, be it Mondo, Gallery 1988, Spoke Art or just some talented artist who does work portraying TV, movies or comics. And maybe you remember last year when we exclusively revealed that an in-production documentary on that subject was titled Just Like Being There. We even revealed some early, early footage.
That film, directed by Scout Shannon, has finally been completed and was accepted into South by Southwest 2012. However, as tends to be the case with any documentary, in the several months since we first wrote about it, the film's focus has shifted a little. The music gig poster, while still a major part of it, also led the filmmakers to explore the current movie poster craze driven by the work by the aforementioned galleries and companies. So the crew ended up at several Mondo Mystery Movies, Gallery 1988 openings and even a certain /Film writer's apartment to see his disgusting collection.
To that aim, they've cut a brand new trailer for the film and you can check it out after the jump.
Here's the trailer for Just Like Being There.
And here's the official synopsis:
In the gig poster community, artists such as Daniel Danger and Jay Ryan prove that creating this artwork is a way of life, more than just a career. These artists are at the forefront of an expansion of the gig poster genre. MONDO's reinvigoration of "the film poster as an art form," and Gallery 1988's theme based exhibits are only two ways in which this artwork is reaching a greater public. In a community with strong roots, dating back to the 1960s, this expansion is controversial- refreshing to some, sacrilegious to others.
Though I was interviewed for Just Like Being There, I have yet to see the film and have no idea how it turned out. Considering it's about a topic I'm passionate about, I have high hopes, but the real test will be if it's a movie that can draw in the average audience member who doesn't know Olly Moss or Daniel Danger from a homeless man sleeping on the side of the street.
We'll have more on the film as SXSW draws nearer but, for now, what do you think of the trailer?