First Look: Will And Jaden Smith On The Set Of M. Night Shyamalan's 'After Earth'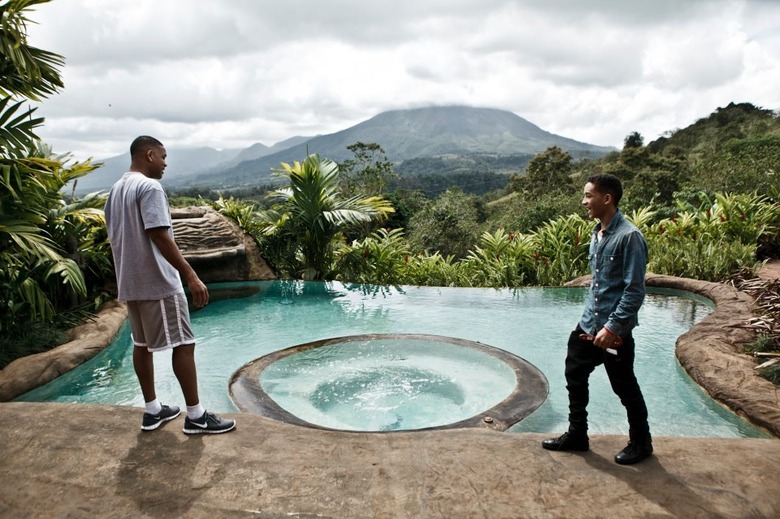 M. Night Shyamalan, Will Smith and Jaden Smith are currently in Costa Rica shooting the Summer 2013 blockbuster After Earth and it seems like the trio are dead set on keeping the fans involved in the action. Shyamalan has been posting several behind the scenes shots at the film's jungle location and Smith's camp is even getting into the mix, posting our first look at the father and son as they'll appear in the film. Will is aged up and Jaden is much more clean cut, as they'll play a father and son who return to Earth 1000 years after the planet has been abandoned. Check out all the photos and more after the jump.
The images come from both Shyamalan's WhoSay page, via his Twitter, and Smith's Facebook page. The header image is from the day before filming. The best look at Smith is below.
A little background on the photos. As I said above, the image by the pool isn't from the movie while the one of Smith with grey hair is. The camera is the Sony F65 and Shyamalan says he's the first director to use it. Also, the image of him on the little bridge is them setting up a reflection shot. The rest are fairly self-explanatory.
The first thing that struck me about these images wasn't how Will or Jaden looked. Their appearances make sense. It's that the film has this lush, jungle exterior. In all my imaging of this post-apocalyptic film, I never pictured that. Obviously, it's the first few days of shooting and there are way more locations to film in, but the whole feel of the movie just flipped for me.
For those who might be in the dark about what After Earth is all about, it's about a family who crash lands on Earth 1000 years after humans have left the planet. The story centers on what happens when a heroic father (Will Smith) is captured, forcing his underachieving son (Jaden Smith) to save him. It also reportedly stars Zoe Kravitz and Sophie Okonedo to round out the futuristic family.
What do you think of the look of the film? Are you going to follow its progress via social media?
Thanks to /Film reader @jayrunham for the heads up.