Arnold Schwarzenegger And Mikael Håfström Officially Sign To Join Stallone In 'The Tomb'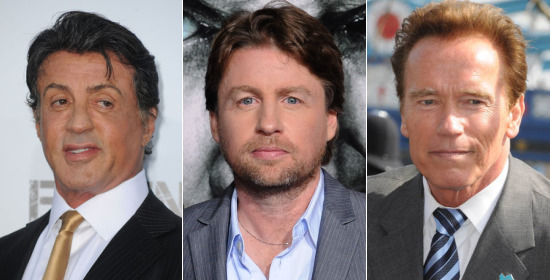 It just isn't as difficult to pair '80s action icons as it used to be. The Expendables blazed a new trail for guys like Bruce Willis, Sylvester Stallone and Arnold Schwarzenegger to work in the same film, and the sequel is soon to expand that testosterone showcase.
Last month it started to look like Arnold Schwarzenegger would also join Sylvester Stallone in a prison film called The Tomb. (Which, appropriately enough, was almost a Bruce Willis film at one point.) Now the two actors are locked and Mikael Håfström (The Rite, 1408) is set to direct, with Summit ready to distribute.
A press release announces the finalized star lineup, and says the film will shoot in Louisiana this spring. Miles Chapman wrote and Jason Keller did a rewrite. Here's the official line on the plot:
The Tomb follows Ray Breslin (Stallone) who is the world's foremost authority on structural security. He's analyzed every high security prison and has gained a vast array of survival skills. But all Ray's ingenuity and knowledge are about to be put to work in the most challenging test he's ever faced: escaping from the master prison of his own design. Schwarzenegger, in the role of Church, plays a complex inmate with multiple shades of grey. He's the guy who fights to keep the prisoners from losing their humanity in their darkest hour as they struggle together to stay alive.
Before this is released we'll see the aforementioned The Expendables 2, and Schwarzenegger will also appear in Kim Ji-woon's English-language debut The Last Stand.