IFC Films Picks Up Fantastic 'Shining' Doc 'Room 237'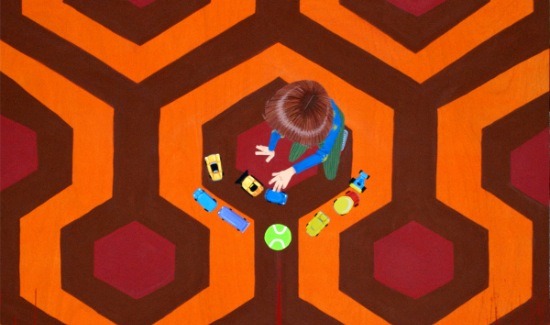 For film fans, one of the most enticing films coming out of the 2012 Sundance Film Festival was Room 237, an experimental documentary directed by Rodney Ascher which explores wild theories buried deep in Stanley Kubrick's masterpiece The Shining. It made my best of the fest but there were doubts fans would ever get to see it because of all the licensed footage in the film.
Apparently, that's not an issue as IFC Films has acquired the awesome film and will release it theatrically and on VOD later this year. Read more after the jump.
Deadline broke the news of the deal and surmise that it'll screen "this Spring in the New Directors/New Film series in New York and Cannes is a likely bet to debut the film across the Atlantic."
That means you'll likely see day and date in theaters and on VOD in the Summer or Fall.
Speaking to some people after Sundance, they felt the rights issues inherent in the film (which I originally detailed in my review here) weren't that big an issue. Apparently, as long as the clips were under a certain length, they were fine under fair use laws. I'm sure they'll need to get some approval for all The Shining clips, as it comprises a lot of the movie, but Room 237 will sell more Shining Blu-rays than Warner Bros. can print. It's practically a 90 minute advertisement for Kubrick's film.
Here's how I described the film in my review:
Room 237 is broken into nine sections, each of which do their best to convince you thatThe Shining has some kind of alternative, hidden subtext. The most controversial and well-known theory is the Moon landing justification. The explanations for it range from laughable to interesting. Other ideas include The Shining being an anti-holocaust piece.
Several of the other chapters dissect the production design and mise en scene of the film in excruciating detail. For example, one woman has made detailed maps of the Overlook and decided it couldn't be a real structure. Another believes Kubrick was so obsessed with subliminal advertising at the time, he flooded the movie with sexual images. And yet another believes Kubrick composed the film to be a mirror unto itself and, to illustrate, we watch several scenes from The Shining overlapped from two different sources: One running the film forward, the other running it backward. The results are jaw-dropping.
Room 237 is a must watch for any fan of film, especially Stanley Kubrick and particularly for those who love The Shining. It places itself among the elite documentaries made on the mysterious auteur. Hopefully any obstacles that need to be overcome in order to secure a release will be, and audiences will get a chance to see this phenomenal work.
Are you excited for this one? You should be.