'V/H/S' And '[REC] 3: Genesis' Highlight SXSW 2012 Midnight Line Up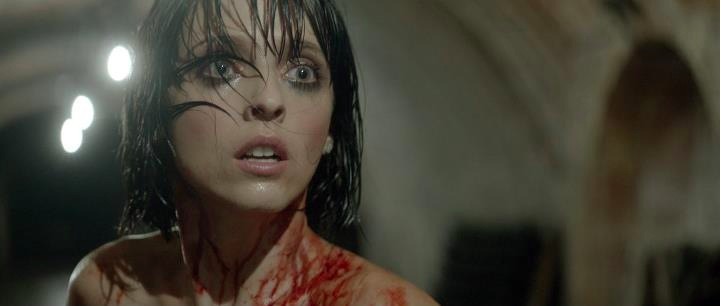 Be it Sundance, Toronto or South by Southwest, some of the most exciting films to play in any film festival these days are part of the midnight line up. That's where festivals feel comfortable playing the over the top genre stuff and, last year, SXSW's midnight schedule included films like Attack the Block, Insidious and Kill List. Now the 2012 schedule has been announced.
The main schedule is already cool enough, featuring the world premieres of fantastic films like The Cabin in the Woods and 21 Jump Street, but at midnight, they're adding to that with the world premieres of [REC] 3: Genesis, Girls Against Boys and The Tall Man with Jessica Biel. They'll also screen the awesome anthology V/H/S, John Dies at the End and Juan Carlos Fresnadillo's Intruders with Clive Owen, just to name a few.
Read the full list after the jump.
Here are the midnight films. For a list of short films that will be playing, head to www.sxsw.com/film.
The Aggression ScaleDirector: Steven C. Miller, Screenwriter: Ben Powell
4 hitmen + $500,000 of stolen cash + 1 family = WAR
Cast: Fabianne Therese, Ryan Hartwig, Dana Ashbrook, Derek Mears, Jacob Reynolds, Joseph McKelheer, Boyd Kestner, Lisa Rotondi, Ray Wise (World Premiere)CITADEL (Ireland, Scotland)Director/Screenwriter: Ciarán Foy
An agoraphobic father teams up with a renegade priest to save his daughter from the clutches of a gang of twisted feral children.
Cast: Anuerin Barnard, James Cosmo, Wumni Mosaku, Jake Wilson, Amy Shiels (World Premiere)Girls Against BoysDirector/Screenwriter: Austin Chick
A psychological thriller about two girls on a killing spree. With edgy and ironic humor and a darkly meditative tone, it is also a coming-of-age story about a girl learning how the world really works.
Cast: Danielle Panabaker, Nicole LaLiberte, Liam Aiken, Michael Stahl-David, Andrew Howard (World Premiere)Intruders (Spain, UK)Director: Juan Carlos Fresnadillo, Screenwriters: Nicolás Casariego, Jaime Marques
The haunting story of two children living in different countries, each visited nightly by a faceless being who wants to take possession of them.
Cast: Clive Owen, Carice Van Houten, Daniel Brühl, Pilar López de Ayala (U.S. Premiere)Iron Sky (Finland, Germany, Australia)Director: Timo Vuorensola, Screenwriters: Michael Kalesniko, Timo Vuorensola
In 1945 the Nazis went to the moon; in 2018 they are coming back.
Cast: Julia Dietze, Götz Otto, Christopher Kirby, Peta Sergeant, Stephanie Paul, Tilo Prückner, Michael Cullen, Udo Kier (North American Premiere)John Dies At The EndDirector & Screenwriter: Don Coscarelli
On the street it's called "soy sauce," a drug that promises an out-of-body experience with each hit. Suddenly, a silent otherworldly invasion is underway. Can college dropouts John and Dave save humanity? No, they can't.
Cast: Chase Williamson, Rob Mayes, Paul Giamatti, Clancy Brown, Glynn TurmanModus Anomali (Indonesia)
Director/Screenwriter: Joko Anwar
A man tries to save his family who go missing during a vacation in the forest.
Cast: Rio Dewanto, Hannah Al Rashid, Izziati Amara Isman, Aridh Tritama, Surya Saputra, Marsha Timothy, Sadha Triyudha, Jose Gamo (World Premiere)[REC] ³ GENESIS (Spain)Director: Paco PlazaScreenwriters: Luiso Berdejo, Paco Plaza
Koldo and Clara's wedding is horrifically interrupted when some of the guests start showing signs of a strange illness. Before they know what's happening, the bride and groom find themselves in the middle of a hellish ordeal, as an uncontrollable torrent of violence is unleashed on the wedding.
Cast: Leticia Dolera, Diego Martin (World Premiere)Super Secret Screening
Be the first to see this feature film coming to theaters near you.
The Tall ManDirector/Screenwriter: Pascal Laugier
When her child goes missing, a mother looks to unravel the legend of the Tall Man, an entity who allegedly abducts children.
Cast: Jessica Biel, Jodelle Ferland, Stephen McHattie, William B.Davis (World Premiere)V/H/SDirectors: Ti West, Adam Wingard, Joe Swanberg, David Bruckner, Glenn Mcquaid, Radio Silence, Screenwriter: Ti West, Simon Barrett, David Bruckner, Radio Silence, Glenn Mcquaid
A group of misfits are hired to burglarize a house in the countryside and acquire a rare tape. The guys are confronted with a dead body and an endless supply of cryptic footage, each video stranger than the last...
Cast: Joe Swanberg, Calvin Reeder, Kate Lynn Shiel, Sophia Takal, Lane Hughes, Helen Rogers, Adam Wingard