'Wedding Crashers' Duo Vince Vaughn And Owen Wilson To Reunite For 'Interns', Shawn Levy To Helm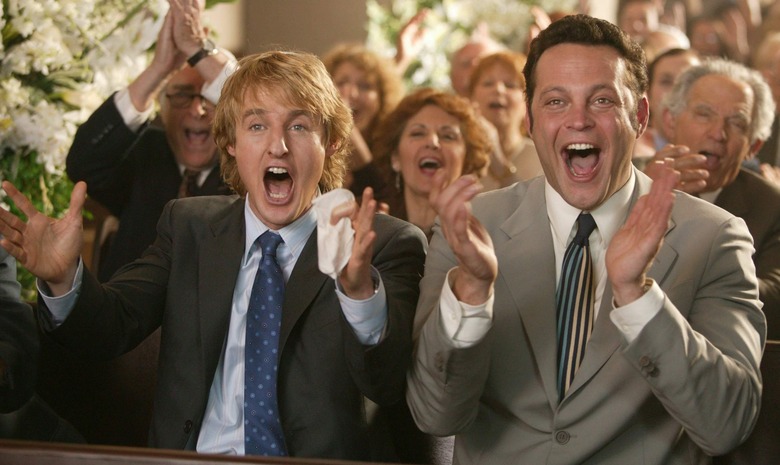 Wedding Crashers may have taken off because of its endless quotability — I remember a period in the mid-aughts when I couldn't have a conversation with a college classmate without the film getting referenced at least once — but the reason it remains so watchable today has to do with leads Vince Vaughn and Owen Wilson and their easygoing, lived-in chemistry.
Now, seven years later, the pals are set to reunite for Interns, a comedy penned by Vaughn. Vaughn's Neighborhood Watch producer Shawn Levy is set to helm the picture for Fox. More details after the jump.
Vulture reports that Interns came about after Levy and Vaughn suddenly found themselves with openings in their schedule. Levy was set up to direct Fox's Frankenstein remake, but the studio took issue with the movie's $80 million budget and halted the project. Meanwhile, Vaughn was gearing up to star in Universal's The Insane Laws, the directorial debut of his The Break-Up screenwriter Jeremy Garelick, but budget woes led to the studio shelving that film and putting Interns into turnaround. At that point, Fox swooped in to pick up the latter.
Wilson starred in some four films last year — Hall Pass, Midnight in Paris, Cars 2, and The Big Year, but will be taking things easier in 2012 with just Errol Morris' Freezing People is Easy on his upcoming slate. Vaughn will appear in this year's Lay the Favorite and Neighborhood Watch. Levy, whose most recent film Real Steel, has been attached to several different projects as of late, including The Three Misfortunes of Geppetto, Fantastic Voyage, and the Real Steel sequel. There's no word yet on a start date or release date for Interns.