Joseph Gordon-Levitt To Make Feature Directorial Debut With Scarlett Johansson Set To Star, May Drop 'Django Unchained'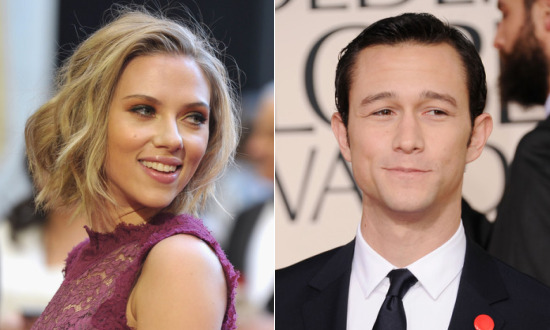 Though Joseph Gordon-Levitt's built up an enviable acting career over the years, between his stabs at short film directing and his launching the collaborative production company hitRecord, it seemed like only a matter of time before he branched out into feature filmmaking. Gordon-Levitt is now slated to do just that, as he gears up to direct his first feature, starring himself and Scarlett Johansson. More details after the jump.
Gordon-Levitt, who started out as a child actor before taking a break from his career to attend Columbia University, told Deadline that his desire to direct was one of the reasons he returned to the industry. "I was a child actor for years and quit at 19, went to school awhile, and a big part of why I came back was that I ultimately wanted to make movies," he said. "I spent a year working with Chris Nolan, Rian Johnson, Steven Spielberg, and I did my best to pay attention. I've also been making short films for a long time now, I've directed a ton of them, and that is a huge part of why I feel comfortable and confident in this."
Gordon-Levitt's past attempts at directing include the shorts Morgan and Destiny's Eleventeenth Date: The Zeppelin Zoo, Morgan M. Morgansen's Date with Destiny, and the Elmore Leonard adaptation Sparks, all of which have played on the festival circuit. Nicholas Chartier's Voltage Pictures is on board to finance Gordon-Levitt's feature, and Ram Bergman will produce for Ram Bergman Productions in association with hitRecord Films. Shooting on the comedy is scheduled to begin April 16.
There is one downside to Gordon-Levitt's feature filmmaking debut, however: It throws into question Gordon-Levitt's supporting role in Quentin Tarantino's Django Unchained. "It will be tricky schedule-wise, but I was honest with Quentin upfront," Gordon-Levitt said. "He was so cool and encouraging. He said, 'You strike me as the kind of guy who would want to direct,' and I took that as high praise."
But Gordon-Levitt fans needn't worry, as he's got plenty of other turns in front of the camera scheduled for the coming months. The multi-hyphenate will appear in this year's The Dark Knight Rises, Premium Rush, Looper, and Lincoln.