Interview: Diane Disney Miller Talks About Growing Up As Walt Disney's Daughter, Inside Walt's Disneyland Apartment And The Walt Disney Family Museum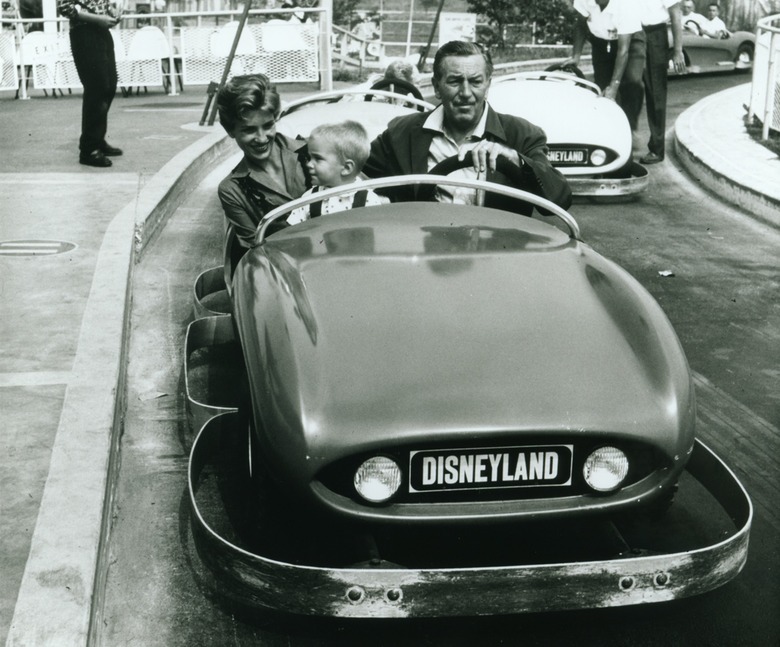 The following report was filed by /Film guest writer Reza Lackey:
When you're growing up, there is always something you would look forward to. The holidays, your birthday, the start of summer etc. When I was younger, there was one event I looked forward too more than any other; My yearly family vacation to southern California where I'd spend an entire day at Disneyland.
For as long as I can remember, my family and I would spend an entire day (sometimes two) of our summer vacation at the Happiest Place on Earth. I would think about this day all year long. I would plan the entire day weeks before. Which attractions we would see in which order, when we would have our meals and when we would claim our seats for shows. I would imagine the sound of the train pulling into Main St. Station. Reading the sign: "Here you leave today and enter the world of yesterday, tomorrow and fantasy." I would wait 364 days to be there. And finally when that day would come, seeing, hearing and smelling Main Street U.S.A., I would become that happiest kid on the earth. My Dad would look down at me as I opened my brand new park map: "Where too? We'll follow you." It was my day.
Now as an adult living in SoCal, I'm able to visit the park much more often checking in on all the new crazy things popping up and obsessing over the details I've grown up appreciating. Over the years I've slowly become more and more interested in the history of the park, the people who built it and how it is one of the greatest American success stories. It didn't just start with a mouse, it started with a man who had $42 dollars, no where to go and a crazy idea. When you walk into the hub of the park and see the Partners statue of Walt and Mickey, you can't help but question what you've accomplished.
I pride my self in sharing quirky facts about the park and playing the "who knows more about the park" game with other Disneyland nerds. One thing that still surprises many people to this day is that Walt actually had an apartment built inside the park to live in while overseeing the construction of the park. It's a small one room living space with a tiny kitchenette that is located above the firehouse on Main Street U.S.A. It also features a small roof top balcony where Walt would invite guests to watch the parade's from after the park opened.
On February 7th, Walt Disney Pictures released the Diamond Edition of Lady and the Tramp. On the disc is a short eight minute special feature, "Diane Disney Miller: Remembering Dad," in which Walt's oldest daughter recalls the time around 1955 when Walt was working to complete both Lady and the Tramp and Disneyland. Viewers will get an inside look at Walt's tucked away apartment on Main Street U.S.A in Disneyland where he spent a majority of his time during this historical period. Here is a clip from that special feature:
Diane Disney Miller is also the co-founder of the Walt Disney Family Museum which is owned and operated by the non-profit organization, the Walt Disney Family Foundation.
To celebrate the release of Lady and the Tramp, the museum held a special event in which Diane Disney Miller made an appearance with never before seen production art from the film. I was going to have the opportunity to talk with her. Ask her anything. Walt's oldest daughter.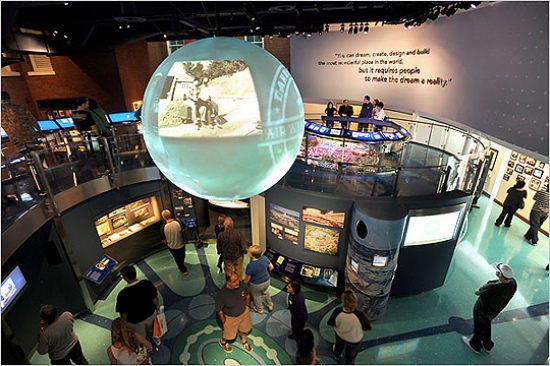 Flash back to my six year old self wondering who that statue on Main Street represented. Being told his name is Walt Disney. He built this place. Wondering what he was like. Who was he?
Mind. Blown.
I was called into a small conference room where Diane Disney Miller was waiting. I was introduced to her and she gave me a giant, hearty hello and firm handshake. The large table in the center of the room was covered in never before seen production art from Lady. I spent a few minutes telling her how much I loved the museum she built and how important I think it is to have it. She listened to me with a warm smile as I babbled on about the place. Then I asked her a few questions.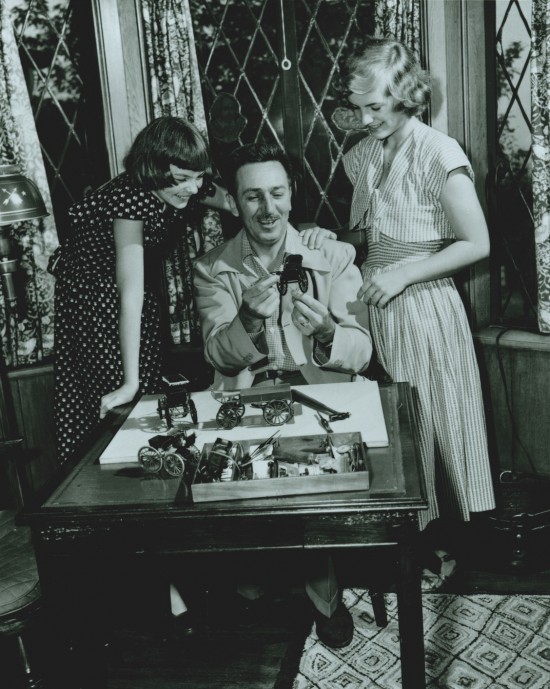 Reza: When you were growing up and Walt was busy working on his films and the parks, did he have any characteristics that indicated he was thinking about something?Diane Disney Miller: Well when he was home he was very much at home, but he always had something to read. He always had a briefcase, but he liked... None of his animation art was in our home, we didn't have any. I read this later when someone had asked him and he said, "I live with it all day. I want my home apart from this. I kept my family and my home apart from what I do at work" and he did, except that on the weekends he would take us when we were little to the studio and we would run around and ride our bikes and stuff like that, but yeah he was always there, I think. He would tell us stories that I would later find out were part of something he had been working on. He thought it all the time, but his mind was made up of little compartments with various projects. He was always looking for something else.Reza: Did he ever ask the family for ideas or what they thought about the things he was working on?Diane Disney Miller: No. (Laughs) No.Reza: Would you say he was secretive about his projects?Diane Disney Miller: No, but he... I understand that he had to have that with people. He would talk with somebody, one of the guys, like "What do you think if we did this or that" and then later if they would offer suggestions he picked them up in his own scenario without really realizing it, but I think he cast about. He liked to have conferences with a lot of people. He really welcomed opinions and ideas.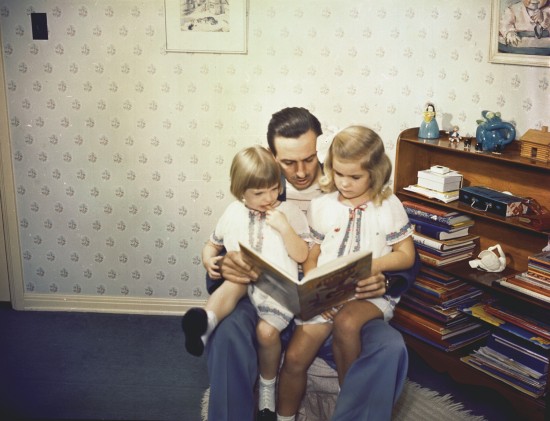 Reza: Growing up when Walt was designing Disneyland, I understand that you spent a lot of time in the park before it opened to the public and years later taking your children. Seeing the park coming to life...Diane Disney Miller: He talked about it for so many years. From the time I was a young child he talked about an amusement park and what he would like to do, so it was something we kind of grew up with, the thought of "I'm going to do this someday" and then I learned that even back in Kansas City when he was in his early twenties, he had said to one of the guys he had at his company, Rudy Ising, because it's a quote from Ising, "Walt..." They were in this Kansas City park, "Electric Park" or something like that and dad said "I'm going to have an amusement park someday, but mine's going to be clean." So it went way back, you know?Reza: When the park finally opened to the public, would you say Walt became a much greater public figure?Diane Disney Miller: And the TV show. They happened at the same time really, didn't they?Reza: Yeah. Was that hard for the family to let dad become a public figure?Diane Disney Miller: You couldn't go anywhere with him without people recognizing him, yeah. (Laughs)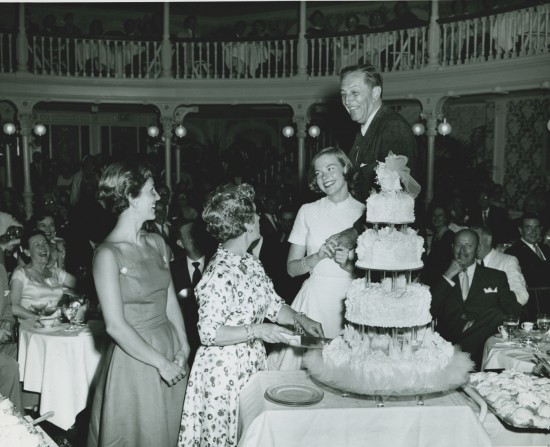 Reza: Was it difficult to have to start sharing dad?Diane Disney Miller: We always had a little bit of that, but not too much. But when he was on TV, everyone thought he was their dad too, or their uncle, you know?Reza: At Disneyland, his park, what would you say is the one thing, attraction, restaurant, anything, that most speaks to Walt as you knew him?Diane Disney Miller: Is the Tiki Room still there?Reza: Yep.Diane Disney Miller: I would cite that, because he was so thrilled with that, but all of it is him.Reza: Because of the technology involved?Diane Disney Miller: Yeah, the audio-animatronics, you know? We are getting a Tiki bird here. Somebody, Gardner Holdt has a company in California and he offered to give us one just kind of as a promotion for him, but it will be down in the bottom of gallery 9 and it will be interactive, but that thing he loved. (Laughs) But he was thrilled with every bit of it. He loved Main Street.Reza: Are there any plans to expand the museum or have it go on tour?Diane Disney Miller: Oh no, we can't do that with what we have here. It's very expensive to maintain this place. The collection that we have acquired has been very costly and we are going to have a Snow White exhibit this year in the fall. It's the 75th anniversary of SNOW WHITE, but this is where it is. We will never take any more space. What we have has to fit in and be accommodated by this space. The building over there is part of this too. Did you know about that?Reza: I did not know that, no.Diane Disney Miller: If you look out that window, there's a brick building. It was the army's post gymnasium and that's where our exhibits will be, but the Snow White exhibit will have a ball to kick that off, but no we aren't changing things all of the time with other exhibits. The ERL is helping us, and Lella Smith of the Ozark is curating it, but this is it.Reza: Well it's an amazing place.Diane Disney Miller: Hey, it's so good to meet you.Reza: Thank you so much. I appreciate it. It was an honor.Diane Disney Miller: Thanks for all of the good things you have said.Reza: Thank you.
Diane Disney Miller: It makes me feel that it is working.
Reza: Believe me, it is working.Diane Disney Miller: Thank you so much.
The museum resides in the Presidio of San Francisco and features 10 permanent displays spread out over 40,000 square feet. The museum takes guests through Walt's life from the meeting of his parents to the worlds reaction of his passing.
If you are anything like me, looking at pictures or film of Walt and wondering who he is and the kind of person he was, this is the place to go. You'll learn about how he grew up, the things that inspired him and the things he loved. You'll see the obstacles he faced and the odds he beat. For fans of Walt and his brand, here lies an experience you must not miss. It's an emotional journey in which we see how his challenges and success shaped him into the man so many celebrate.
Some people ask why I'm so passionate about Disneyland and when they do I'm not quite sure what to say. All I can think about is walking under that bridge while the steam engine train rolls in. Walking into the sunlight of busy Main Street U.S.A. with my parents in tow wondering if this is the year I'll be tall enough for Space Mountain. The smell of chocolate, popcorn and a hundred other tasty treats hitting me hard. Anticipating spotting the statue of the man I've been told is responsible for this place through the crowd of people. The sound of care-free joy.
I have no idea how to answer them.
"You're dead if you aim only for kids. Adults are only kids grown up, anyway." – Walt Disney