'Let The Bullets Fly' Trailer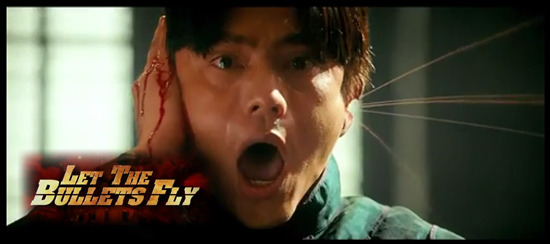 Over a year ago Peter highlighted the Chinese action film Let the Bullets Fly as one of the better movies of 2010, and the film is finally edging towards a domestic release.
Jiang Wen's film features the director as a bandit who poses as the mayor of a town in order to bleed the place dry, but he runs afoul of the local crime boss, played by Chow Yun-fat. An early teaser for the movie made it look somewhat appealing, but the new domestic teaser really emphasizes the film's crazy action. Check it out below.
Thanks to AICN for that clip. I can see how this might not be so satisfying on a narrative level, but the footage in the movie sure makes for one hell of a trailer. What the hell is that shot with the liquid shooting out of the guy's ear?
Germain liked but wasn't head over heels for Let the Bullets Fly when it played Fantastic Fest last September, but he did have praise for Chow and the film's action:
Maybe it's all lost in translation but at no time did I ever feel I had a grasp on which way was up. Everyone has different aliases, motivations, bosses and more. Still, while the film is disorienting, the action is good and the performances – especially by Chow Yun-fat as the bawdy, hilarious crime boss – make it easy to enjoy.
Here's an older trailer:
Let the Bullets Fly has a limited release in the US beginning March 2.
Set in China during the warring 1920s, notorious bandit chief Zhang descends upon a remote provincial town posing as its new mayor, an identity that he had hijacked from Old Tang, himself a small-time imposter. Hell-bent on making a fast buck, Zhang soon meets his match in the tyrannical local gentry Huang as a deadly battle of wit and brutality ensues.