New 'Abraham Lincoln: Vampire Hunter' Photos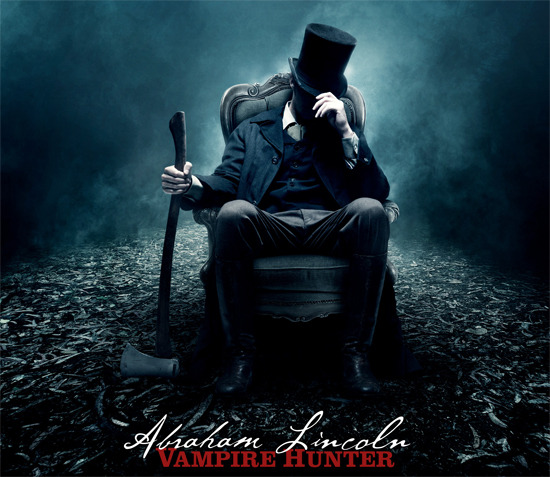 Two of Tim Burton's projects for 2012, Dark Shadows (which he directed) and Abraham Lincoln: Vampire Hunter (which he produced, with Timur Bekmambetov directing) have yet to show any footage to the public. But both are slowly rolling out new images.
We've got four new pics today of Abraham Lincoln: Vampire Hunter, which is a June 22 release that stars Benjamin Walker, Mary Elizabeth Winstead, Alan Tudyk, Anthony Mackie and Dominic Cooper, with Rufus Sewell and Erin Wasson. Check out the images below.
EW offers the pics:
The site also quotes Benjamin Walker — pictured as both a young Lincoln (standing with the axe) and as the bearded older version — describing the film's take on vampires:
It's not a sermon in any way, but it is interesting to look at vampires as the all-encompassing, unspeakable, unknowable evil. This evil moves among us, and maybe lives next door. It's an ideology that we don't fully understand, but they live by it.
Walker also says,
[The film is] told through the structure of Lincoln's actual life. You not only see these huge fight scenes and great moments of drama, but you get sort of the greatest hits of Lincoln's life, from the mysterious death of his mother through the Gettysburg address. You get a portrait of this man, as well as a thriller.
Seth Grahame-Smith scripted the movie from his own novel. Here's the synopsis, in case the title and quotes above don't make the basic idea pretty clear:
The film explores the secret life of our greatest president, and the untold history that shaped our nation. As a young boy, Abraham Lincoln (Benjamin Walker) witnesses the shocking death of his mother, leading him on a path to an ongoing war – and ultimately to the presidency – he chronicles in a hidden diary. The journal reveals the incredible story of a clandestine warrior who never stopped fighting for the country he led and the people he loved.