Early Buzz: 'John Carter'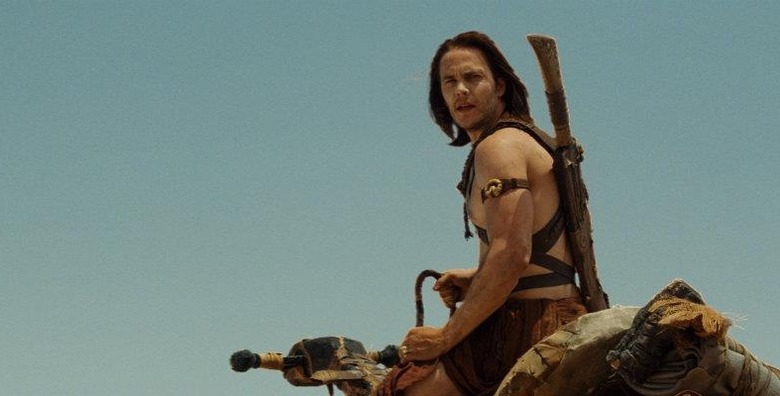 One film I've been decidedly mixed on is John Carter, Andrew Stanton's live-action debut. Much as I love the talent involved — stars Taylor Kitsch, Willem Dafoe, Mark Strong, etc., screenwriter Michael Chabon, and of course Stanton — I haven't loved the footage we've seen of it so far. But trailers, clips, and Super Bowl spots only tell us so much, and some of the buzz from the early screenings have made the project sound a bit more promising. Hit the jump for more.
Movie was really excellent and well worth watching. The audience reacted positively to the entire thing. All around me were pleasantly surprised, as most, like me, hadn't even heard of the film. Many people took a long time to fill out their surveys and felt a responsibility to accurately convey their opinions. I felt the audience was emotionally engaged. we were rooting for JC all the way. We wanted him to marry the princess. we wanted her to love him. I would definitely recommend it.
Another wildly positive review comes from writer Ayelet Waldman, though her praise comes with a huge caveat: She's married to Chabon, one of the screenwriters, and saw the film at a Pixar crew screening. Here are a few choice quotes from her Twitter (via IMDb):
Just saw John Carter. It was AWESOME. Seriously. Best action movie I've seen ... maybe ever? Lush and gorgeous. Great love story. FAB!!!! The thing about #johncarter is that the female lead is smart, & kicks ASS. It's so female friendly!
Finally Nick Soapdish wrote to Ain't It Cool News after watching not the whole film, but a few clips. You can head over to their site to read his descriptions of each scene he saw, but here are his overall impression:
So all in all, the Film looks great. Much better then I was expecting. I have two reservations. The first is Disney's track record with live action films of late, especially Sci-fi. Admittedly, John Carter is just as much a Fantasy film as it is Sci-Fi. But I am worried it will end up like Tron Legacy. A great film that doesn't do as well at the box office as it deserves. The fact there has been no merchandise and poor promotion thus far means I am worried it to will not do so well.
The second is the claims of copying other films. The book is about 100 years old and nearly every sci-fi film has drawn inspiration from (or stolen) themes and ideas from these stories and like I mentioned in my review of the last clip that when people see that scene they will think Star Wars. I hope that audiences are able to realise that John Carter was the original, and is not trying to copy other famous sci-fi films.
John Carter, under the Direction of Pixar's Andrew Stanton, could be a big Disney franchise, something that it could really do with. The planned John Carter to be a trilogy and the success of this first film will determine the future of the series. I hope it finds its audience and I for one will definitely be there opening weekend to see the final film.
I'm glad to see some positive reviews of the film, but the praise still isn't quite strong enough to drown out my worries. Guess I'll have to see for myself when the film hits March 9.