Todd Phillips Has Four Possible New Directorial Projects At Warner Bros.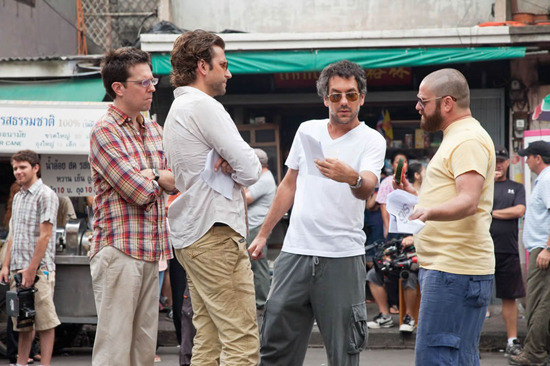 Starting with The Hangover, Todd Phillips has turned into a new cash cow for Warner Bros., with the two Hangover movies and Road Trip cumulatively earning more than a billion dollars worldwide. (The Hangover films are responsible for the bulk of that gross.) Not bad for a guy who makes absurd comedies.
Now WB has renewed its first-look deal with Phillips and his company Green Hat Films. And while they work on The Hangover Part III and prepare for the release of the Phillips-produced Project X, there are four other films that are possible directorial follow-ups for Phillips. Details are below.
Deadline reports on the projects, which are:
Mule, adapted from Tony D'Souza's novel "about a young couple that turns to drug trafficking to scratch a living during the recession." A writer is in the process of being hired right now.
Arms and the Dudes, expanded from a Rolling Stone article by Guy Lawson, which followed two Miami Beach stoners who turned to arms dealing before the Pentagon confiscated, essentially, their entire business. Stephen Chin is in talks to script.
The Island, written by Adam Sztykiel (Due Date) from a story by Travis Fickett and Terry Matalas. This one is being kept secret for now.
Million Dollar Strong, based on the videos made by Mike O'Connell and Ken Jeong, in which the duo pose as a mock rap duo. O'connell is scripting with Peter Kline. This one was in development at MTV about five years ago; we don't know if this script is a new take or something that dates from the early development.
Hard to tell which of these projects might end up with the best results, but Mule is a very easily salable story that echoes quite a few other articles I've read over the past few years. Arms and the Dudes is a little more wild, but with the right cast could easily end up eclipsing Deal of the Century as the go-to arms dealing comedy. (But will it be better than Lord of War?)
We can't tell much about The Island, given the secretive state of the project, but Million Dollar Strong is a lot easier to theorize about, because there are plenty of videos to watch. Here's 'What's It Gonna Be?,' the duo's signature tune: