This Week In Trailers: Undefeated, Pink Ribbons, Inc., The Adopted (Les Adoptes), How Do You Write A Joe Schermann Song, On The Ice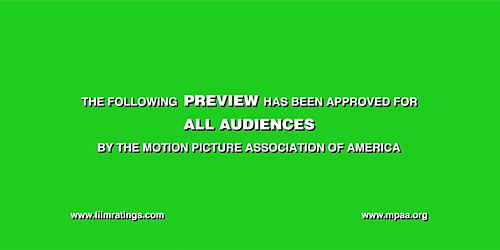 Trailers are an under-appreciated art form insofar that many times they're seen as vehicles for showing footage, explaining films away, or showing their hand about what moviegoers can expect. Foreign, domestic, independent, big budget: I celebrate all levels of trailers and hopefully this column will satisfactorily give you a baseline of what beta wave I'm operating on, because what better way to hone your skills as a thoughtful moviegoer than by deconstructing these little pieces of advertising? Some of the best authors will tell you that writing a short story is a lot harder than writing a long one, that you have to weigh every sentence. What better medium to see how this theory plays itself out beyond that than with movie trailers?Undefeated Trailer
If you can believe it, filmmakers Daniel Lindsay and T.J. Martin's last cinematic effort explored the world series of beer pong. From beer to high school football, it doesn't seem like that much of a stretch.
But, it is, after all, high school. There's just something about this time in kids' lives that lends itself to riveting drama. It's funny that human beings couldn't be more vapid nor more interesting as a species than between the ages of 13-18. You cannot overstate, in this trailer, just how pivotal a time this looks for many of these guys.
What I like about what's here is that we have a coach. A coach talking at length about what's got him down lately.
Academy Award Nominee.
Flash to the city we're in, the high school we're focusing on, and the problems that face one football team in America. The construction seems so simplistic but, make no mistake, it's building momentum and it's doing it better than a lot of other documentaries who have to sell you on their story.
It becomes about the players, their struggles on and off the field, and the hardships that the team is facing as they look to be competitive in some capacity. The music that is barely noticeable in the background starts to swell and it's simply hard to deny that this becomes a real life version of everything Disney would love to sell you. Remember The Titans, you've got nothing on these kids. You can't pull away from watching this and seeing where it's going to end but you don't want to because it's damn compelling.
Pink Ribbons, Inc. Trailer
Susan G. Komen has been under fire lately so consider this a squeeze from the lighter fluid tin onto the open flame. It seems like kismet that thanks to the backtracking that once vice president of Susan G. Komen a documentary like this seems more timely than ever.
Documentary filmmaker Léa Pool doesn't wait to start building the case against the co-opting of breast cancer into an advertising and marketing scheme. She barrels right into it with shots from the Komen 3-Day walk, and if you've ever been around it you can immediately pick up on the subtle cues about the amount of money it must take to mount such an event and then realize that women who participate have to raise $2,300 in order to be a part of it. How is that money used?
The trailer begins to plant these seeds.
It's a one/two punch back and forth from women of all kinds who resent the marketing package that breast cancer is being wrapped up in. To hear survivors speak of the horribleness of cancer and reject the high gloss finish of pink ribbons and limited edition pink packaging and everything else associated with making this a cause célèbre.
It gets a little overly dramatic near the end but seeing how I've never witnessed anyone taking this issue on in a manner as aggressive like this I'm more apt to see it and be informed than I would just ignoring it, allowing myself to be sold on the party line that all the money that goes in is going to help research a cure.
The Adpoted (Les Adoptes) TrailerDenis Menochet and Mélanie Laurent are back for the first time since teaming up in Inglourious Basterds. This power couple was much too radiant to be contained in one film and so Mélanie's first directorial effort has Denis at the center for what looks like a complex weaving of a very human tale.
The trailer doesn't really get into the intricacies of how we find these two BFFs at the center for what appears to be a hideous accident but I like the flow. It's got its own pace and it's not going to be rushed for the sake of snappy editing or getting to the point as quick as possible. It lets its story breathe a little, a bottle of wine that's just left out for a bit to get some air, and we get to know these ladies as briskly as possible before we're thrown for the dramatic loop.
The real thrill here is that once we see what it is that is driving these characters to their edges we're not really given much of the melodrama that plagues so many other films of this kind. We get a little of it but, for the most part, things turn inward and we're offered a very philosophical look at the events that unfold. It's hard not to think that Laurent doesn't end up boffing her best friend's old squish but this movie looks like a sad exploration of one woman's recriminations and how her life has been going.
Drama is hard to make influential in small doses within a trailer but this one does it with pops of emotion and flourishes of passion.
On The Ice Trailer
"They can't find out what we did."
I have zero idea what in the hell they did do but this is one trailer that tells you nothing but gives you everything. One of the things I enjoyed most about this, the directorial debut of Andrew Okpeaha MacLean, is that it plays like any number of coming-of-age stories and sets it up just like one.
What keeps you from getting comfortable, though, is that music. It's so ominous and eerie that it prevents you from relaxing but it's good in that even when these young kids look like they're just going out for a quick jaunt on top of some ice something bad is brewing. Sure enough it becomes a game of Rashomon with these kids who may or may not have witnessed something pretty dastardly.
The trailer is deftly able to weave the whodunit angle by focusing in on director's Andrew Okpeaha MacLean's secondary plot line. It's one of those things that you think you have it all figured out and then it hits you with it. There's no way to know which way things will go but I'm convinced that it's going places we haven't seen for some time when it throws multiple problems up in the air. What's more, it's bold that it puts it near the end so that by the time you realize what was at stake before and then what's at stake now, it's all over. There's something ballsy about leaving things float out there but it's enough to get my attention and kudos.
How Do You Write A Joe Schermann Song TrailerOver a year ago I talked about this film from filmmaker Gary King and, as is the way for independent filmmakers, it's finally having one of its first film festival screenings in mere weeks at the Phoenix Film Festival. The new trailer, though, is special enough to talk about because what's here shows the level of talent at play when you're not a director who has multiple movies coming out in a calendar year, when you have to cut and refine and polish and finesse your one project in the hopes it sees the light of an audience's eyes.
You also have to make sure it's good.What this trailer does really well, though, is make you think this production is larger than it is. With a upbeat rhythm and such sweeping moments that you forget completely about the scale on which this is taking place that you completely forgive the irony-free melodrama that pops up here and there.
To wit, the moment that comes in at around the fifty second mark really sells it for me. It sounds as if Ariel from The Little Mermaid has all grown up and I feel fine about that. It has a genuineness about itself that it wears it on its sleeve and while that might seem trite to some it means that this is a movie that isn't trying to hide something that it isn't.
The songs are catchy, the moves are legit, and by the end of this you're convinced that this is a movie you could take your beloved to without feeling like you're being forced into the film equivalent of a concentration camp. The players here are seriously out to make a movie musical and in the realm of independent film this is a genre that is all but ignored. There is no way I could see missing out on seeing whether this is legitimately able to pull off a coup by showing up its big studio brothers but I would settle on being a movie where you find yourself humming a song on the way to the car.
Nota bene: If you have any suggestions of trailers to possibly be included in this column, even have a trailer of your own to pitch, please let me know by sending me a note at Christopher_Stipp@yahoo.com
In case you missed them, here are the other trailers we covered at /Film this week:
Brake Trailer – Buried, part II.
Bullhead Trailer – I am a fan of the trailer. Fierce and bold.
Battleship Super Bowl Trailer – It's not a joke if there isn't some truth to it. This is Transformers: On The Ocean.
The Avengers Extended Spot Super Bowl Trailer – Thankfully this helps restore my excitement in what looks like a pretty peppy popcorn flick.
Take This Waltz Trailer - Such a delightfully wonderful trailer. It's so marred in melancholy but it has a real soulfulness.
Osombie: The Axis of Evil Dead Trailer – Looks like it would be good on the SyFy channel.
Let The Bullets Fly Trailer – Quite gonzo. Impressive.
G.I. Joe: Retaliation International Trailer – Should be ashamed that I really want to see this?
The Bourne Legacy Trailer – Yes please.
Extraterrestrial Trailer – I've never really seen anything like this but it sells itself quite humorously and fantastically.
The Aggression Scale Trailer - Thrilling and seems like violence abounds.
Just Like Being There Trailer - I'm a fan of these kinds of documentaries but this trailer makes the art of poster making seem relatively interesting.
Seeking A Friend For The End Of The World Trailer - It's quite obviously a romantic comedy but one that's wrapped up in an apocalyptic disaster? This well lit trailer gets me thinking it could a nice date movie with the Mrs..