'The Hunger Games' Trailer #2 Shows Sisterly Bonding, Plus: Details On World Premiere Ticket Giveaway And IMAX Screenings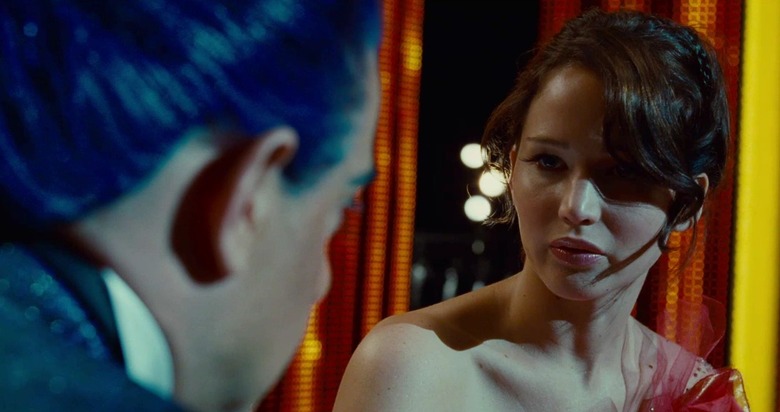 With just 50 days left until Gary Ross' The Hunger Games hits theaters, Lionsgate has released a thrilling new trailer that delves a little deeper into Katniss' (Jennifer Lawrence) relationship with her sister Prim (Willow Shields) and, therefore, her reason for competing in the Games. The more love triangle-y aspects involving Gale (Liam Hemsworth) and Peeta (Josh Hutcherson) take a backseat this time around, which is just fine by me.
But that's not all — if you like what you see, you may also be interested to hear the news we have about the film's opening. Yahoo! Movies and other websites are giving away the opportunity to attend The Hunger Games' world premiere in Los Angeles on Monday, March 12. Meanwhile, the less lucky among us may have better luck snapping up tickets for just-announced IMAX screenings of the film, which begin March 23. Check out the details and watch the new trailer after the jump.
[via Yahoo!]
Pretty great, right? Now that you're sufficiently pumped up, scroll down for details on Yahoo!'s giveaway. The winner will receive two tickets to the premiere, which will also be attended by all of the film's stars.
Step 1: Follow @yahoomovies on Twitter
Step 2: Tweet this message:
May the odds be in my favor to win tickets to 'The Hunger Games' premiere #HungerGames50 #YahooGiveaway http://yhoo.it/yahoohungergames
Note: One entry per person/email address/Twitter handle. Winners must provide their own transportation and lodging.
Step 3: The giveaway ends 11:59 p.m. PT on February 29, 2012. Winners will be announced on Twitter and will receive a Direct Message with further information. Keep in mind, this giveaway is open to U.S. residents only. If you have any other questions, check out the official rules or feel free to tweet us.
Yahoo! is just one of fifty websites giving away tickets, so if you'd rather try your luck with a different website, feel free to poke around the interwebs. Head over to Yahoo! for more details.
It'd be tough to beat the excitement of actually attending the premiere, but since not everyone will be able to go, the next best thing may be to watch the movie on the largest screen you can find. IMAX and Lionsgate have just announced that The Hunger Games will get a one-week IMAX run starting the same day as the film's regular premiere, March 23.
It's worth pointing out that The Hunger Games was not shot in IMAX, but rather is being digitally remastered for IMAX. Still, if you like the idea of watching teens slaughter each other in the biggest, shiniest, most immersive format possible, advance tickets for the IMAX showings will go on sale February 22. Read the full press release at Deadline.
Every year in the ruins of what was once North America, the evil Capitol of the nation of Panem forces each of its twelve districts to send a teenage boy and girl to compete in the Hunger Games. A twisted punishment for a past uprising and an ongoing government intimidation tactic, The Hunger Games are a nationally televised event in which "Tributes" must fight with one another until one survivor remains. Pitted against highly-trained Tributes who have prepared for these Games their entire lives, Katniss is forced to rely upon her sharp instincts as well as the mentorship of drunken former victor Haymitch Abernathy. If she's ever to return home to District 12, Katniss must make impossible choices in the arena that weigh survival against humanity and life against love. THE HUNGER GAMES is directed by Gary Ross, and produced by Nina Jacobson's Color Force in tandem with producer Jon Kilik. Suzanne Collins' best-selling novel, the first in a trilogy published by Scholastic that has over 16 million copies in print in the United States alone, has developed a massive global following.