Al Pacino, Christopher Walken, And Alan Arkin Are 'Stand Up Guys'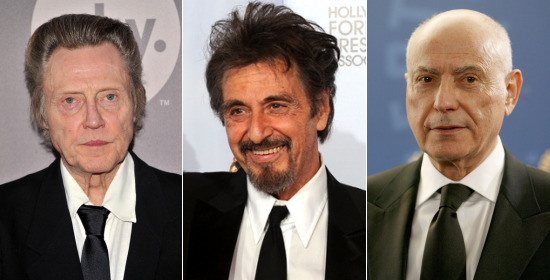 Action flicks aren't just for young stars anymore, as evidenced by the commercial success of films like The Expendables, Indiana Jones and the Crystal Skull, and Live Free and Die Hard. But even by those standards, Stand Up Guys boasts a fairly advanced cast. Al Pacino, Christopher Walken, and Alan Arkin have signed on to star in the action-comedy, which was previously titled Old Timers. Fisher Stevens, who won a Best Documentary Oscar in 2010 for The Cove, is set to direct. More details after the jump.
Stand Up Guys will mark the first time all three stars have worked together, though each have crossed paths in the past. Arkin co-starred with Walken in America's Sweethearts, and with Pacino in Glengarry Glen Ross. Walken and Pacino both had roles in Gigli, though they did not share the screen.
All three actors have several projects lined up for the next couple of years. Arkin, who's currently shooting The Incredible Burt Wonderstone, will next be seen in Thin Ice and Ben Affleck's Argo. Pacino is working on David Mamet's untitled Phil Spector biopic, and is slated for King Lear and Gotti: In the Shadow of My Father. Walken is filming Seven Psychopaths, and was recently cast in Errol Morris' Freezing People is Easy. Stand Up Guys will begin shooting in Los Angeles this April.