'GI Joe: Retaliation' Super Bowl Spot Gives You Cobra Commander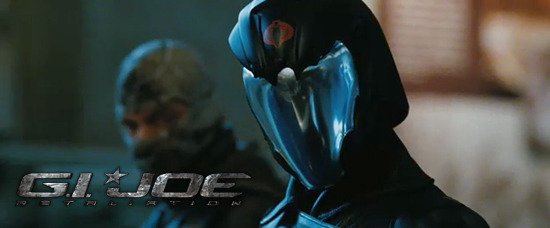 Paramount is trying again with G.I. Joe this summer. Though the original film wasn't all that well received, footage from the sequel G.I. Joe: Retaliation has been turning heads beginning with the teaser trailer premiere in Austin late last year.
A new ad for Jon M. Chu's film will run during the Superbowl, and the spot is already online. You can check it out below, and in doing so get a first look at the film's pretty classic-looking take on Cobra Commander.
Open with The Rock quoting Jay-Z, unfurl Cobra flags on the White House and introduce Cobra Commander, move on to a lot of quick-cut action and then finish with a machine gun-wielding Bruce Willis? That all says, "hey, we screwed up last time, but here's the big action movie you wanted in the first place." And it works.
G.I. Joe: Retaliation stars Dwayne Johnson, Channing Tatum, Bruce Willis, Adrianne Palicki, D.J. Cotrona, Byung-hun Lee, Ray Park, RZA, Joseph Mazzello, Elodie Yung, and Walton Goggins. It opens on June 29, 2012.