'Candy Land' Moves To Columbia Pictures, Starts Over, Sucks In Adam Sandler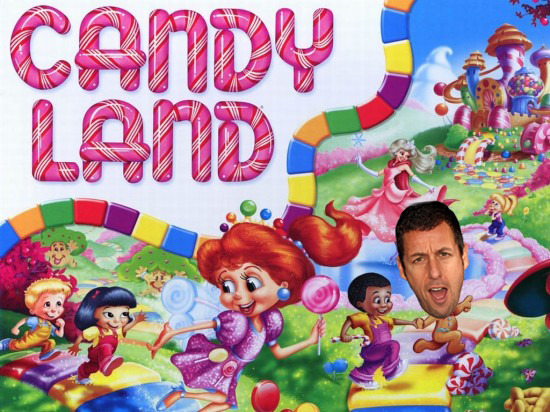 A couple years ago Universal made a deal with Hasbro that put a whole bunch of board game films into development at the studio. The one result so far is Battleship, opening later this year, and in fact Universal has steadily shed most of the other projects: Ouija, Clue, Monopoly and now Candyland have all been cut loose to find new homes. The version of Candyland that was in development was the brainchild of writers Jonathan Aibel and Glenn Berger, who likened their approach to The Lord of the Rings with candy.
That incarnation of Candyland is apparently dead, and a new one, Candy Land, has stuck to Happy Madison and Columbia Pictures. Adam Sandler is now attached to star with Kevin Lima (Enchanted) directing and Sandler in talks to co-write with Robert Smigel. This collection of talent sounds like, if nothing else, one that will deliver a much more obvious film based on the sweet game.
The press release for the new incarnation of the project is below. There is little info about the approach taken to adapt the board game to the screen, but Columbia president Doug Belgrad does mention plans for "a fantastical, live-action family adventure film with a larger than life part for Adam."
SWEET!  ADAM SANDLER AND HAPPY MADISON TO PLAY "CANDY LAND"
Columbia Pictures, Happy Madison and Hasbro Team Up to Bring the Classic Game to the Big Screen
CULVER CITY, Calif., January 31, 2012 – Columbia Pictures, Happy Madison and Hasbro, Inc. are in final talks to develop Candy Land, a live action movie based on the bestselling Hasbro board game with Adam Sandler attached to star, it was jointly announced today by Doug Belgrad, President of Columbia Pictures, Hannah Minghella, President of Production for Columbia Pictures, and Brian Goldner, Hasbro President and CEO.  Kevin Lima (Enchanted) is attached to direct the project for the studio with Sandler and Robert Smigel are in talks to write the screenplay.
Commenting on the announcement, Belgrad said, "Candy Land is more than just a game. It is a brand that children, parents and grandparents know and love. The world of Candy Land offers an extraordinary canvas upon which to create a fantastical, live-action family adventure film with a larger than life part for Adam. We are thrilled to partner with Hasbro and Happy Madison on this project."
"The creative talent on board for this movie is amazing and we are excited to bring alive the world of Candy Land for kids and families everywhere," Goldner added. "Sony/Columbia has been a wonderful creative partner as we develop another of our games, Risk, for the big screen. We are looking forward to working with Sony/Columbia and Adam Sandler and his team at Happy Madison Productions on this film."
Candy Land is one of the most beloved and best known games of all time.  Created in 1949, it has been played by generations of families. In the game, players go on a magical journey through fantastical lands made of candy, sweets, and ice cream: the Peppermint Forest, the Gum Drop Mountains, and the Lollypop Woods.  Along the way, players encounter such iconic characters as Princess Frostine, Lord Licorice, Mr. Mint, and King Candy.
The project will be produced by Goldner (Transformers) and Hasbro's Senior Vice President and Managing Director of Motion Pictures, Bennett Schneir (Battleship) along with Happy Madison Productions.  At Columbia, development of Candy Land will be overseen by Sam Dickerman.