'7500' Teaser - Ghosts Haunt Jason Stackhouse In The Friendly Skies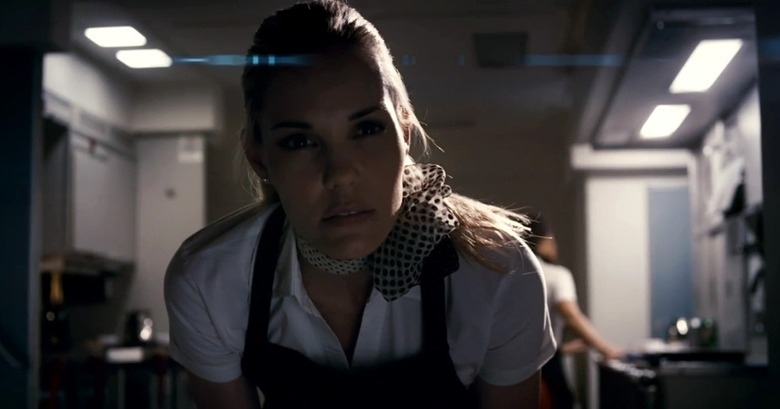 Statistically speaking, flying is actually one of the safest ways to travel — you're much, much more likely to die in a car accident, for example — but you wouldn't know it from the number of movies that involve horrible things happening aboard an airplane. The latest of these is 7500, a paranormal thriller from The Grudge helmer Takashi Shimizu. Ryan Kwanten, Amy Smart, Jerry Ferrara, Leslie Bibb, and Jamie Chung star as passengers and crew en route from Los Angeles to Tokyo when they begin to notice odd occurrences within the cabin. Watch the first teaser after the jump.
[via IGN]
Kudos to whoever thought to include this super-creepy rendition of "Leaving on a Jet Plane" — it really goes a long way toward setting the mood of the trailer.
In an earlier interview with Entertainment Weekly (via Cinema Blend), Kwanten described the film as "a haunted house movie on an airplane," and that's exactly what the first trailer looks like. And as with the better haunted house films, there seems to be a psychological component to the horror. "We deal with our problems and conflicts of the past and try to find a way to overcome that," he said. The True Blood star plays an unhappily married man on vacation with his equally dissatisfied wife (Smart) and their friends.
Shimizu directed the film from a script by Craig Rosenberg, whose previous screenplays include After the Sunset and The Uninvited. Rosenberg has also served as the executive story editor on several episodes of Lost, so presumably he knows a thing or two about bickering people trapped together in a desperate situation.
Shimizu's own credits include helming the Ju-on film series, the American remake The Grudge, and its sequel The Grudge 2. Adding to 7500's horror pedigree are producers Takashige Ichise and Roy Lee, both of whom worked with Shimizu on the American Grudge.
Also starring Nicky Whelan, Scout Taylor-Compton, and Alex Frost, 7500 opens August 31.