Frank Grillo Says Joe Carnahan's 'Death Wish' Is About Two Brothers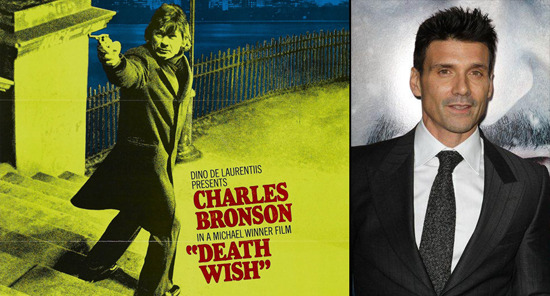 One bit of Death Wish trivia known to those who've read a lot about the film's early development is that Sidney Lumet was originally looking at adapting the Brian Garfield novel that Michael Winner eventually turned into the film starring Charles Bronson. Lumet was looking at casting Jack Lemmon in the role of accountant Paul Benjamin, whose wife is killed and daughter incapacitated by a violent attack. (In the Winner film, the character's name and occupation were changed.) That would have been a very different film than the eventual Bronson version, and likely one that did not celebrate vigilante violence in the manner of Winner's movie.
Now, to follow The Grey, director Joe Carnahan is writing and planning to direct a new version of Death Wish. He's creating a role for Frank Grillo, after Grillo was so good in one of the most important roles in The Grey. Carnahan has explained a bit about his new Death Wish — that it will be set in LA, and showcase lesser-seen sides of the city — and now Grillo has revealed that the film will feature two brothers, and possibly echo the approach that Lumet might have taken if he had directed the original film decades ago.
On the Matthew Aaron Show, Grillo said,
He (Joe Carnahan) is imagining it as a two hander, it's not just Bronson's [character], it's two brothers.
There's a hint in the interview that Russell Crowe was being pursued for the primary character, with Grillo being eyed as the other brother. Given the recent surge of interest in Crowe it seems unlikely that he'd play the role, which is too bad, as I think Crowe would be perfect casting for a liberal accountant whose brush with violence forces him into paranoia and vigilantism.
Grillo is asked about Liam Neeson being in the movie and Grillo's response is basically, "yeah, it's a great idea." No word on whether Neeson might be the primary character, or the cop who pursues him. (That role was wonderfully played by Vincent Gardenia in the first two Death Wish movies.)
When asked about the Lumet version of Death Wish, Grillo said,
I think it's closer to what you're talking about, and not doing what the Charles Bronson movies did, they were fun but when you go back and watch them they don't really hold up very well, they were a product of their time. He (Carnahan) wants to do something far more interesting, which is what Lumet had in mind for the film.
Here's the audio interview: