Video: 'One For The Money' And 'The Bounty Hunter' Are The Same Movie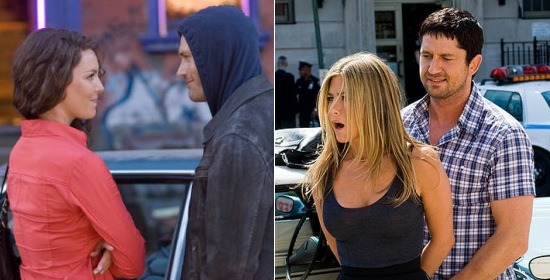 There are plenty of reasons to skip Katherine Heigl's One for the Money, starting with its truly pathetic score of 3% on Rotten Tomatoes. And based on its weak opening performance this past weekend, it seems most moviegoers are already well aware of what those reasons are. But just in case you needed one more, there's also the fact that you may have already seen One for the Money before — in the form of a 2010 Jennifer Aniston / Gerard Butler movie called The Bounty Hunter.
After the jump, check out a mashed-up trailer that makes the very convincing argument that One for the Money may just be warmed-over version of The Bounty Hunter.
To be clear, The Bounty Hunter and One for the Money aren't actually the same movie. The latter is an adaptation of Janet Evanovich's bestselling Stephanie Plum books, while the former is an ostensibly original work. But as /Film reader Katy A., who sent in the video, notes, "it's like The Bounty Hunter ripped off the Stephanie Plum novels before [the One for the Money folks] could make their movie."
For its part, The Bounty Hunter also has a pretty dismal Rotten Tomatoes score, with just 9%. So it's not exactly a classic in its own right, but it does appear to be the superior take on the "bounty hunter tracks down ex-lover" thing by a tiny margin. It also did better in its opening weekend, taking in a respectable $20.6 million.
In contrast, Box Office Mojo reports that One for the Money took in just $11.5 million this weekend, putting it below Heigl's Life as We Know It and Killers, despite the enduring popularity of the source material and a well-publicized Groupon promotion. But hey, Heigl knows it could be much, much worse. It's doubtful she'll ever make another film that performs as poorly as 2006's Zyzzyx Road, which is notorious for having made just $30 — yes, that's $30, not $30 million — in its entire theatrical run.