Sequel Bits: 'Wicker Man 2' In Japan? Plus 'Before Sunset' Follow-Up, 'Grown-Ups 2,' And 'Riddick'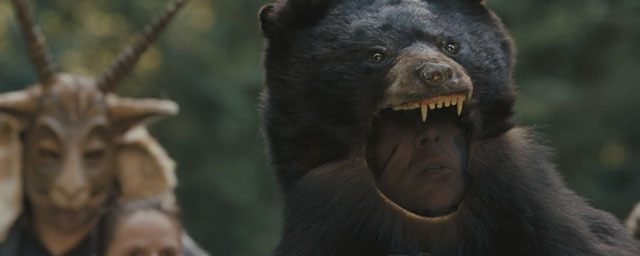 This one's too good to hide after the break, so let's begin this roundup of sequel news with a killer quote from Nicolas Cage. The actor often seems to go off the deep end with respect to movie roles, and one of his crazier ones in recent memory is the Neil LaBute remake of The Wicker Man. There's no way to sum up the madness of the film; if you haven't seen it, get that sucker now.
During a recent web chat with Empire, Cage was asked about revisiting old characters, and he said
I would like to hook up with one of the great Japanese filmmakers, like the master that made 'Ringu,' and I would like to take 'The Wicker Man' to Japan, except this time he's a ghost.
Hideo Nakata is the director of whom he speaks, and it took me a couple extra seconds to call his name to memory as my mind was busy exploding. Was Cage serious? Hard to tell of late, given the other films he's been doing. But I would watch that Ringu Man movie, whatever it turned out to be, without thinking twice.
After the break lurks a variety of news about an incredibly disparate collection of films:  the theoretical follow-up to Before Sunset; Grown Ups 2;  a possible R.I.P.D. sequel, and Riddick.
In November, Ethan Hawke mentioned the possibility of doing a third film with Richard Linklater and Julie Delpy that would follow Before Sunrise and Before Sunset. That took us all by surprise, because even Before Sunset seemed like an unlikely film. Against all odds the sequel worked, but a third movie? Seems like it would be pushing it. And, yes after that first revelation from Hawke there were more statements about how he spoke too soon and it was just an idea rather than a serious plan.
At Sundance this year, Julie Delpy proclaimed that she is done with acting, saying that she would rather pursue writing and directing. But it seems like she would be willing to do the third Before film, because she told EW,
We're thinking about it, but the second one we only did because we had a good setup, and ideas. I don't think we would do it if we find the right thing to say. If the third one's not good, it's not good for the two before. We're careful. We're thinking about it, but it's not official.
That leaves things about where they were at the end of last year, but for fans of the two films, this is something to hold on to.
We were surprised recently to hear that the Adam Sandler movie Grown Ups might get a sequel. Actually, not surprised; a bit more like dismayed. The comedy also featuring Kevin James, Chris Rock, Rob Schneider and David Spade, made a mint: $271 million globally. So a sequel is to be expected and, in fact, one has been announced and dated for July 12, 2013.
But hold up. Chris Rock said at Sundance that he's not actually sure if the film that Sandler is assembling to shoot this summer is Grown Ups 2 or not. He told MTV,
I don't know yet. I definitely have been called about my availability. But no one's told me about a script. When Adam Sandler gives you a call and asks, 'What are you doing in June? Make sure you don't do nothing in June!' So I think we're getting ready to get the gang back together. I don't know if it's going to be 'Grown Ups 2' or another movie, though.
Here's Rock on video:
Ryan Reynolds has a couple of potential comic book franchises on the table. One is Green Lantern, which kicked off with the film that starred Reynolds last summer. Another is Deadpool, which will rework the character Reynolds played in X-Men Origins: Wolverine. That one is still in the planning stages.
Finally, there is R.I.P.D., the adaptation of the Dark Horse Comics graphic novel about two deceased detectives (Jeff Bridges plays the other) who track down the dead on Earth. And Reynolds says the film, which just wrapped, is written so as to pave way for a sequel. (Not a surprise, really.) Reynolds told The Playlist,
It could be a franchise. It certainly is set up, plot-wise, for a sequel. But nobody's signed on for that just yet. We would like it to be [a film series.]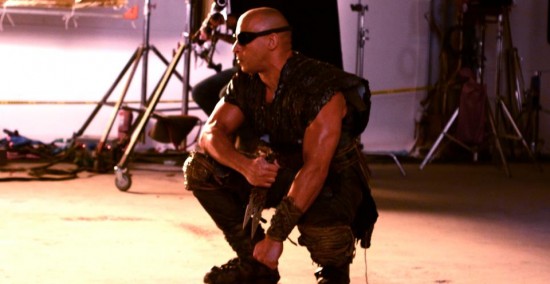 Finally, here's another new shot of Vin Diesel in character as Riddick in the film that he and David Twohy are working on right now. Diesel had released one image of him in the Riddick costume not long ago, and he posted this new one to FaceBook with the message,
Being king has it's perks... yet an alpha Furyan, must return to his primitive state... that animal side.
(low rumble)
GRRRRR...
P.s. An early pic from the set of the new Riddick film.