TV Bits: 'The Walking Dead' Trailer And Clip, Plus: 'True Blood', 'Downton Abbey', 'Beauty And The Beast', Jimmy Kimmel, Kevin Smith Vs. Adam Carolla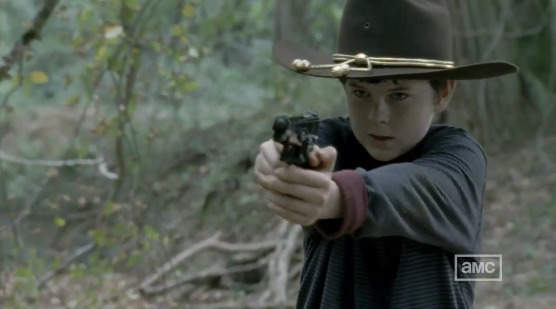 We have some interesting tidbits of all kinds today, but let's be real — we both know you're mainly here for The Walking Dead trailer and clip and the True Blood teaser. After the jump:
HBO offers the first 3 minutes of The Walking Dead's midseason premiere, plus a teaser
The first teaser for Season 5 of HBO's True Blood comes online
Shirley Maclaine will be calling on Downton Abbey
Details on The CW's new Beauty & The Beast reboot reveal a surprising 9/11 connection
Jimmy Kimmel is shopping a "Borat Meets Green Acres" hybrid series
Kevin Smith and Adam Carolla bicker over an upcoming untitled project
[via Coming Soon]
Or, if you'd prefer a shorter, faster-paced look with more dramatic music, check out the 30 second teaser below:
[via Vulture]
The Walking Dead will return to AMC on Sunday, February 12 at 9:00 PM.
Much less revealing is the first teaser for Season 5 of HBO's True Blood, which will kick off on an as yet undetermined date this summer. Like that first Game of Thrones Season 2 teaser from a few months back, it shows no footage at all and is really just a fancy way of presenting a marketing slogan. Still, if you're a fan, this seems like as good an excuse as any to start getting amped for the new season.
Considering how much we've seen of the Earl of Grantham (Hugh Bonneville) and his side of the family on Downton Abbey — including his delightfully acerbic mother, played by Dame Maggie Smith — it seems like high time we met Lady Cora's (Elizabeth McGovern) side of the family.
To that end, Shirley MacLaine has been cast as Lady Cora's mother, and is slated to appear in the hit drama's upcoming third season. I've only just gotten through the first season, so I can't speak to the forthcoming season at all, except to say that I look forward to catching up time to watch the Dowager Countess rip Lady Cora's mom a new one. [TV Line]
With the fairy tale trend in full swing, perhaps it's not terribly surprising that there are not one but two adaptations of The Beauty and the Beast currently in the works, one at ABC and one at The CW. Only one of those, however, has a character origin story that ties in to 9/11.
MovieHole reports that The CW's version will be a reboot of the '80s series starring Linda Hamilton and Ron Perlman, with several updates to reflect a contemporary setting. Catherine, in the new version, was saved as a young girl from a fatal carjacking by a "Beast," and has grown up to become a tough but troubled NYC cop. (Aren't they all.) During one of her investigations, she cross paths again with the mysterious figure who once rescued her. But even more interesting is the newly revamped backstory for Vincent:
Vincent worked as a doctor at the New York University hospital – and was working On September 11, 2001 when the towers came down.
Long story short, a wounded Vincent ends up in a medical clinic where he's injected with a DNA-changing drug. The drug turns him into an unstoppable soldier type that is used in Afghanistan. Think 'Captain America' or a 'Universal Soldier'. Unfortunately, the strength and stamina comes with a price...it also changes Vincent's look — in particular, hair sprouts hair everywhere.
When he returned from Afghanistan, looking like he is, he hid himself away- – with the help of T.J.
("T.J." being Vincent's pal — the two of them apparently live together with "a Wii and an endless supply of beer.")
As evidenced by some of the visceral reactions to Stephen Daldry's Extremely Loud and Incredibly Close, the use of 9/11 as a plot device must be done very, very carefully if it's to remain in good taste. We'll have to wait and see if Beauty & the Beast actually pulls off that trick. Head over to MovieHole for more comprehensive details on the new series, including rundowns of several supporting characters. [via Comic Book Movie]
Jimmy Kimmel is branching out from his current late-night gig, with a new reality/scripted hybrid series described as "Borat meets Green Acres." To clarify, it'll feature fictional characters existing in the real world, much as Sacha Baron Cohen's hit movie did. "It plays on the idea of how far hospitality and politeness get pushed and does it in way that also examines culture clashes," says producer Tony DiSanto. I'm guessing that the Green Acres reference is an indication that we'll be seeing city folk head into the country.
Kimmel will executive produce the project, but does not plan to appear on camera. The show is curently being shopped to networks by DiSanto and Liz Gateley. [THR]
And speaking of Kimmel, his former Man Show co-host Adam Carolla has gotten involved in a public tiff with the notoriously feisty Kevin Smith, over an untitled pilot at Warner Bros. Television' Telepictures division. Carolla and Smith were originally lined up to appear onscreen together in the new show, described as "an irreverent take on pop-culture news" and a potential companion for the syndicated series TMZ, but the project is now moving forward with Smith and without Carolla.
Smith's version of events is that Telepictures got "antsy" over prolonged negotiations with Carolla's reps, and that the deal never closed. Meanwhile, Carolla claims that he signed a contract, but Telepictures then called off the deal because Smith was upset about Carolla cancelling an appearance on Smith's podcast — although Carolla denies flaking.
"If Kevin Smith really feels it went down the way it went, and maybe he does, he should get a CAT Scan and a functional MRI because there's going to be problems," Carolla said while discussing the fallout on his podcast.
Despite the harsh words, however, the two have already begun hinting at a resolution on Twitter. That development has Perez Hilton, for one, suspecting the fight was a coordinated effort to drum up publicity for their new show, which could hit in 2013. [Variety]