'Game Of Thrones' Trailer - A King, A Priest, And A Rich Man Walk Into A Bar...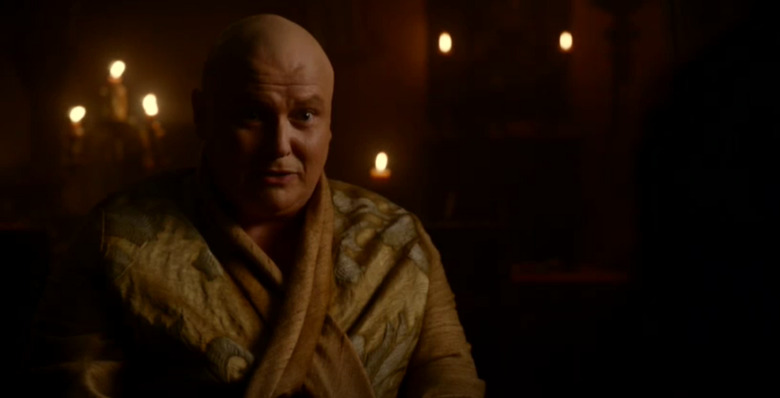 Though I was excited by the earlier teaser for Season 2 of HBO's Game of Thrones, at the risk of sounding like a swooning fangirl, I have to say that even that pales in comparison to this new trailer. This time around, it's Lord Varys (Conleth Hill) who takes over narrating duties, explaining exactly who everyone is and what they're doing — without actually revealing anything at all, of course. Tricky eunuch bastard. Naturally, Golden Globe and Emmy winner Peter Dinklage gets some good face time as well. Watch the video after the jump. (Warning: Spoilers for Season 1 follow.)
[via TV Line]
Whether you've read the books or not, it's clear that there's no danger of things slowing down anytime soon on this show. If anything, the situation in the Seven Kingdoms looks more dire than ever. Perhaps Ned Stark was actually lucky to get out early.
Based on Book 2 of George R.R. Martin's A Song of Ice and Fire series, titled A Clash of Kings, Season 2 picks up where Season 1 left off with various players and factions moving into place to try and seize power in Westeros. Most of the season 1 cast is slated to return, along with a slew of new stars including Stephen Dillane, Carice van Houten, Liam Cunningham, Gwendoline Christie, Natalie Dormer, Patrick Malahide, Gemma Whelan, and many more. Game of Thrones returns April 1 at 9 PM on HBO.
Here's the Amazon synopsis for A Clash of Kings:
The Seven Kingdoms have come apart. Joffrey, Queen Cersei's sadistic son, ascends the Iron Throne following the death of Robert Baratheon, the Usurper, who won it in battle. Queen Cersei's family, the Lannisters, fight to hold it for him. Both the dour Stannis and the charismatic Renly Baratheon, Robert's brothers, also seek the throne. Robb Stark, declared King in the North, battles to avenge his father's execution and retrieve his sister from Joffrey's court. Daenerys, the exiled last heir of the former ruling family, nurtures three dragons and seeks a way home. Meanwhile the Night's Watch, sworn to protect the realm from dangers north of the Wall, dwindle in numbers, even as barbarian forces gather and beings out of legend stalk the Haunted Forest.