Exclusive: Mondo And Iron Jaiden Create A Poster For Ben Wheatley's Wild 'Kill List'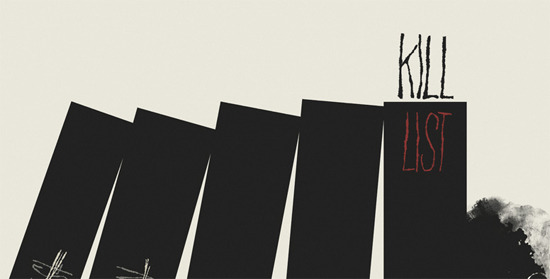 As a follow-up to the movie Down Terrace, director Ben Wheatley made the tense and rather strange film Kill List. The picture defies typical categorization, because it blends elements of domestic drama, a hitman thriller and a much weirder sort of suspense story that will, I think, earn a few pleasingly shocked reactions from viewers.
There is an ambiguity to the movie, as Wheatley declines to explain every element of the story, but enough info is present that no viewer ever has to be lost. Disoriented, definitely, but that's part of the plan. Kill List is like a realization of many familiar modern male anxieties, and it also contains a few truly unexpected turns that surprised me more than anything else I can remember in the last year. In short, it's good stuff. I've thought about it quite a lot since the credits rolled.
Mondo will soon release a poster designed by Iron Jaiden (who did great images for Videodrome and Repo Man, among others) to help promote IFC's limited theatrical release of Kill List. See the full image after the break.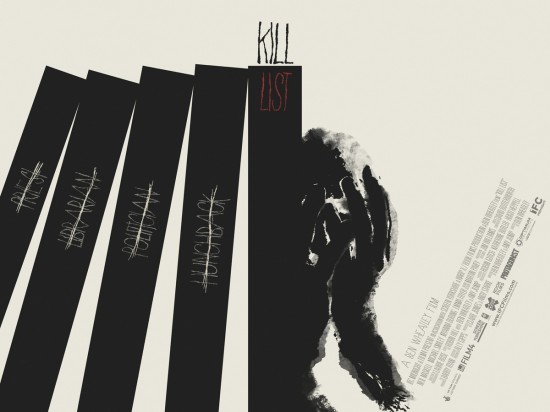 The image by Iron Jaiden measures 18x24 inches and will be printed in an edition of 100. It goes on sale on February 23, 2012, for $30. Follow MondoNews on Twitter for on sale info.
Here's the trailer for Kill List, in case you've missed it in the past. This one doesn't give too much away, so venture forth without fear of spoiling the film's surprises. The film  is available via VOD and digital distribution right now, and it opens this Friday, February 3, in NYC at the IFC Center and LA at Cinefamily.