'Predisposed' – Jesse Eisenberg, Melissa Leo And Tracy Morgan Make For Fun Drama [Sundance 2012]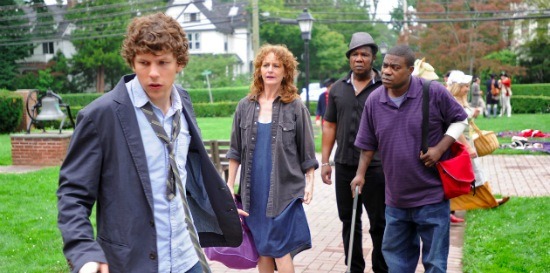 One Oscar winner, an Oscar nominee and the actor who made the EGOT famous simultaneously elevate the quirky family drama Predisposed. Melissa Leo plays a drug addicted mother whose son, played by Jesse Eisenberg, is forced on a madcap adventure on the most important day of his life. On his way to drop mom off at rehab, he's taken hostage by a a crazy drug dealer (Tracy Morgan), takes oxycontin, is forced to parent his little sister and even takes part in a Revolutionary War reenactment.
Co-directed by first time feature director Phil Dorling and Oscar-nominated screenwriter Ron Nyswaner from their short of the same name, Predisposed is extremely ambitious and, at times, succeeds in fulfilling those promises thanks in large part to fantastic performances by the three leads.
The main flaw in Predisposed is that while it tries to be a comedy first and drama second but it's actually way more dramatic than comedic. Many of the jokes fall horribly flat or only elicit minor smiles. On the other hand, when the humor grows out of drama, it consistently works. The screenplay, co-written by the directors, does a great job of keeping the action moving, though, so even when the humor isn't working, the story is consistently entertaining.
As the do-it-all son, Eisenberg turns in his most dynamic performance to date. Yes, better than The Social Network. He has to play confident while seeming meek and command people around him with the world on his shoulders. He pulls it off and then some. Leo is her usual amazing self, taking what could have been a wild caricature and giving her a sad soul. Even Morgan, who does provide some of his patented wackiness, is much more serious than usual and it works very well.
The film tells us that in a single day almost everything can change and no matter how crazy your family is, they're still your family. It's a nice message and a nice movie.
/Film rating: 7 out of 10