'Sleepwalk With Me' - Comedian Mike Birbiglia's Hilarious, Heartfelt Feature Debut [Sundance 2012 Video Blog]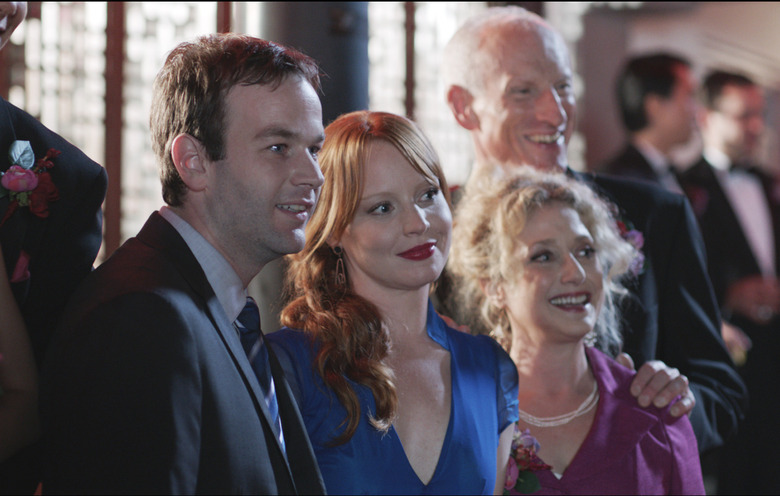 There's a running joke amongst comedians that people get into stand-up just so they can be TV stars. It works for some but for others, it seems like stand-up might be a better route to get into film directing. It worked for Woody Allen, Louis CK and now it's worked for Mike Birbiglia, a successful touring comedian who turned his one man autobiographical off-Broadway show Sleepwalk With Me into a feature film. The movie just had its world premiere at the 2012 Sundance Film Festival.
Birbiglia stars as Matt, a struggling stand-up comedian who has been with his girlfriend Abby (Lauren Ambrose) for eight years. When the couple begins to have problems, Matt uses that to finally find his voice, which in turn makes the relationship even more difficult. Then there's the tiny matter of Matt dangerously sleepwalking every night, all of which actually happened in Birbiglia's life.
Co-starring James Rebhorn, Carol Kane, Marc Maron and produced by Ira Glass (This American Life), Sleepwalk With Me is incredibly clever, well-directed and laugh out loud hilarious. The message isn't all that new, but the journey there definitely is.
Watch a clip from the movie as well as a video blog featuring myself and Jordan Raup from The Film Stage after the jump.
Thanks to Jordan from The Film Stage for once again helping with the video blog. The quality is lower because I shot it with the front iPhone camera as opposed to the back one.
And here's a clip from the film to give you an idea of Birbiglia's chops as a first time director.
I hope Sleepwalk With Me gets picked up as soon as possible because I'd love to turn people on to this well-made, funny smart film. It's a real crowd-pleasing delight.
/Film Rating: 8.5 out of 10