Eric Powell And David Fincher Say 'The Goon' Adaptation Is Not Dead, Paul Giamatti Apologizes For Sparking Rumors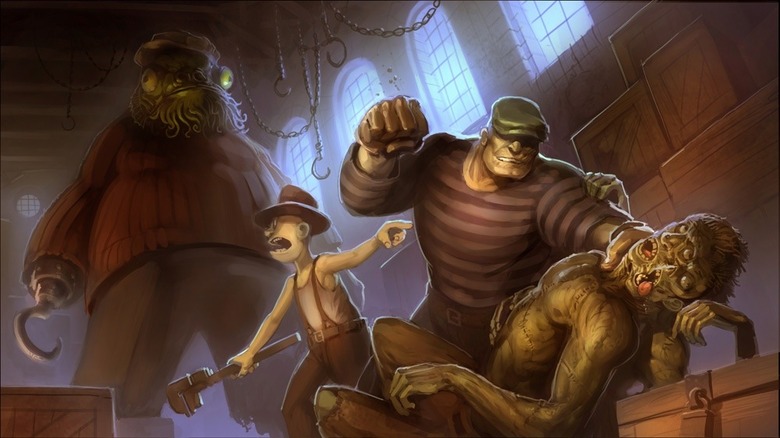 Earlier this week, we reported on the apparent demise of the David Fincher-produced adaptation of Eric Powell's The Goon after star Paul Giamatti commented that the picture had run out of money. However, it now seems we were a bit too quick to give up on the long-gestating project. Powell has taken to his blog to address the issue, writing that "THE GOON FILM IS STILL ON THE TABLE," and Giamatti and Fincher have since weighed in as well.
Long story short, the film's still got a great many steps to go before it hits theaters — but it's still very much clinging onto life. Read more after the jump.
David Fincher and Blur still have the option for the Goon film and are still actively looking for funding... It's been a while since anyone spoke to Giamatti about the project and I guess he wasn't kept in the loop as to what was going on. So zip up your fly, Internet. The Goon is in the exact same position it's been in for the past couple of years. Prepping the design and script while searching for funding.
I don't have a role in acquiring the funding for the film, but I speak to Tim Miller at Blur, Fincher, and Mike Richardson with Dark Horse Entertainment every few weeks to get an update on the status. And last I spoke with Fincher and Miller they were gearing up for another round of meetings to try to acquire funding. We have to find the right people that get what we're trying to do and will give us the budget we require. It's going to take time when you're dealing with a project like the Goon film. An animated (and not aimed towards toddlers) gangster film with monsters, murder, and tons of dark humor... where have you seen that before?
Powell also says that Giamatti has emailed him apologizing for instigating the rumor. "[Giamatti] feels like a douche that this became a topic," writes Powell. "He also said I could declare him full of crap and a nuisance... which would only make him more suited to play Franky, but are completely untrue."
Fincher, for his part, sent Powell a quick note saying that "The things that make the Goon so completely unique are, unfortunately, more than mere concerns to corporate hollywood... But I am undeterred–this atom can be split."
So take heart, Goon fans: it appears the comic could be headed to the big screen yet. Though I still can't say I'm all that optimistic about seeing it happen sooner rather than later...