'Lockout' Trailer: Is Guy Pearce The New Kurt Russell?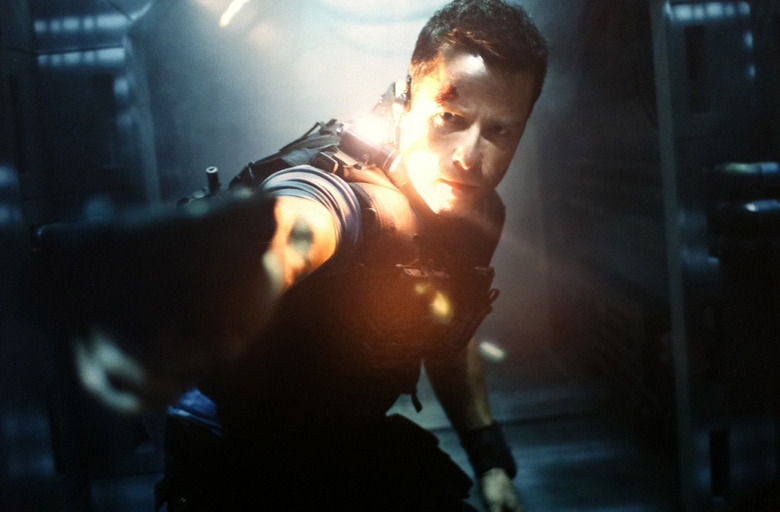 2012 looks like it could be a year with a particularly strong crop of movies, and the b-picture isn't getting left out of the action. This week alone we've got The Grey and Man on a Ledge (with the former being a lot more satisfying than the latter) and there are more coming in later months.
One of the more appealing ones is Lockout, aka Lock-Out, aka MS One: Maximum Security, aka a space-set blend of Escape From New York and Taken, starring Guy Pearce and Maggie Grace. (I also see shades of the Jack recruitment mission from Mass Effect 2.) The trailers we've seen for the film (here and here) make it look like a great time, and now there is a new one that much more actively sets up the plot, in which Guy Pearce has to rescue the daughter of the US President from a locked-down prison satellite. Check it out below.
IGN has the new trailer:
So, just as before, Guy Pearce really looks like the standout here. He's got the sort of energy that we used to see from Kurt Russell in his great '80s films. Whether the movie will hold up for the entire running time is open to question, but the key scenes with Pearce look great.
I would like this trailer a lot more if the early voiceover describing the prison said instead, "....it's impenetrable because... it's in SPAAAAAACE!" What we get is close enough, I guess.
FilmDistrict will release the film under the title Lockout in the US, on April 20th. James Mather and Stephen St. Leger wrote and directed, and the film also features Peter Stormare, Joseph Gilgun, Vincent Regan, and Jacky Ido.