Kate Winslet And Catherine Keener Join Charlie Kaufman's 'Frank Or Francis'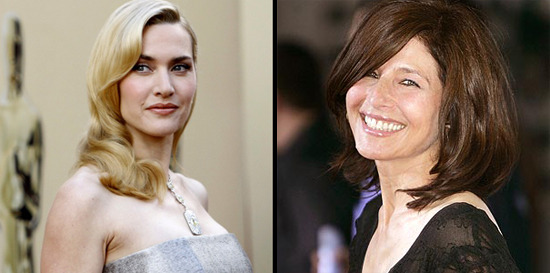 Charlie Kaufman writes screenplays that are tricky and intricate, and they attract great actors who like to work with material that is both fun and challenging. Kaufman is planning to direct his second film, Frank or Francis, which he also wrote, and the movie has already lined up Steve Carell, Jack Black, Nicolas Cage, and Kevin Kline to play of roles that are characteristically Kaufman, which is to say: earnest and familiar but also exaggerated to a point of almost insane eccentricity.
Now the film has added Kate Winslet and Catherine Keener, both of whom have received Oscar nominations for performing in films written by Kaufman. (Eternal Sunshine of the Spotless Mind and Being John Malkovich, respectively.)
Vulture reports the casting, but doesn't give any details about what roles the women will play. We do know quite a bit about the film, however.
Carell plays Frank Arder, a writer/director who plays every single role in his latest film, You, which is nominated for 29 Oscars. Jack Black is Francis, a prolific internet commenter/troll who, offline, is the stereotypical misfit geek living with his parents. The two men feature in parallel but related plotlines that eventually converge.
Nic Cage is Alan Modell, an actor/comedian with a dimming career, who hosts the Oscars. And Kevin Kline is Richard Waller, who with his brother Jonathan creates a mechanical head designed to create the perfect film script. Kline, by the way, also plays the head.
All that info should be enough to communicate that Frank or Francis is Kaufman in full-on mode, creating not only a tragi-comic story, but a full-on dissection of modern life and the film industry. Oh, and there is kind of a musical aspect, in that a lot of the dialogue is meant to be sung.
In the script draft that was floating around last year there were also roles such as a wife and mistress for Frank, a love interest for Francis, and "a Romanian waitress and two talking ghost-like thumbs who have a Romanian political agenda." So Winslet and Keener could be playing any of those roles.